An independent analysis commissioned by the Construction, Forestry, Mining and Energy Union (CFMEU) has identified a crisis in Australian apprenticeships, with alarming shortfalls in mining and construction.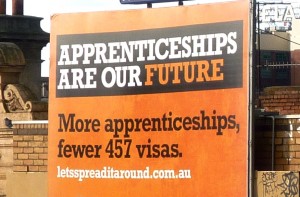 According to the CFMEU, the report found that construction apprenticeships are down by 28% since 2010, with a national shortfall of mining apprenticeships of 3,300 and a ratio of apprentices to tradespeople in construction at its lowest level since 2003 – 12.4%.
It found that the mining sector would need to increase the number of apprentices by as much as 37% to match its share of total tradespeople.
It also identified a decline in the quality and take-up of apprenticeships and training
According to the report, a 33% cut to TAFE funding over the last ten years, combined with student fund increases and the abolishment of the Tools for the Trade scheme that provided $5,500 to apprentices for equipment, has contributed to a 25% reduction in classroom teaching time, as students are now forced to take out loans of up to $20,000.
The CFMEU National Secretary Michael O'Connor said the findings were a wake-up call, particularly in light of last fortnight's spike in youth unemployment.
"The unemployment rate across Australia for 15 to 19 year olds is now at a massive 21% – more than double the rate in 2008 and the highest since April 1997. The extensive use of temporary migrant workers by construction and mining firms is just exacerbating the problem. There are around 20,000 Visa workers in construction and mining – mostly in WA, Queensland and Victoria," Mr O'Connor said.
"Yet despite these findings and the dire youth unemployment situation, the Government is considering expanding employers' access to overseas workers by loosening 457 Visa requirements and declaring designated regional migration zones. And big mining and construction companies are not meeting their responsibilities to support and train up the next generation."
The CFMEU has recommended a string of measures to offset the slump, including:
Requiring employers, especially those using temporary overseas labour or receiving any form of government assistance to take on greater numbers of new apprentices
Urgent investment in vocational education and training to reverse the decline in funding, quality and places
Strengthening and rolling out labour market testing across all occupations to make sure that employers genuinely look for locals first before taking on overseas labour.
The report identified the decline of the public sector as a major funder of construction work, and the growing reliance on global capital markets to fund Australian construction projects as drivers of the cost cutting and declining standards across the industry.
This has driven a high proportion of small firms and self-employed contractors in the industry – who are less likely to take on apprentices.