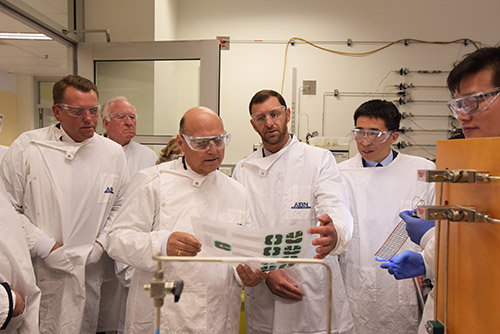 In these troubled times for manufacturing in Australia, innovation seems to be the ray of light for the sector. The country is leading the way in the development of revolutionary battery technology thanks to a joint project between The University of Queensland and the University of New South Wales.
As reported, Aussie innovators are working on the development of cutting-edge technology that is set to revolutionise battery storage and lead to a whole new generation of innovative products.
Brisbane-based company Printed Energy Pty Ltd holds the key for this: ultra-thin flexible printed batteries for cheap portable devices and intermittent renewable energy.
The new technology has potential applications in powering everything from disposable medical devices, smart cards and wearable electronics to large-scale solar panels and energy storage.
Minister for Industry, Innovation and Science Senator Arthur Sinodinos yesterday visited the University of Queensland, one of Printed Energy's project partners, to officially announce a $2 million CRC-P grant to continue the development of the ground-breaking technology.
"Printed Energy received funding under the Government's latest round of CRC Projects (CRC-P) grants to accelerate work on the technology. Printed Energy's $12 million project received a $2 million CRC-P grant that will allow the partners to continue developing the ground-breaking technology," the Minister said.
"Improving collaboration between researchers and industry to cultivate a more innovative and entrepreneurial economy is a key pillar of the Government's National Innovation and Science Agenda."
According to UQ Dow Centre for Sustainable Engineering and Innovation Director Professor Chris Greig, the new technology "presents a real opportunity for the next generation of Australian manufacturing".
"Our mission is to foster and facilitate advances in science and engineering which are technologically, economically and socially sustainable," Professor Greig said.
"This project fits the bill perfectly and the range of applications is probably only limited by our imagination."
Image credit: www.uq.edu.au