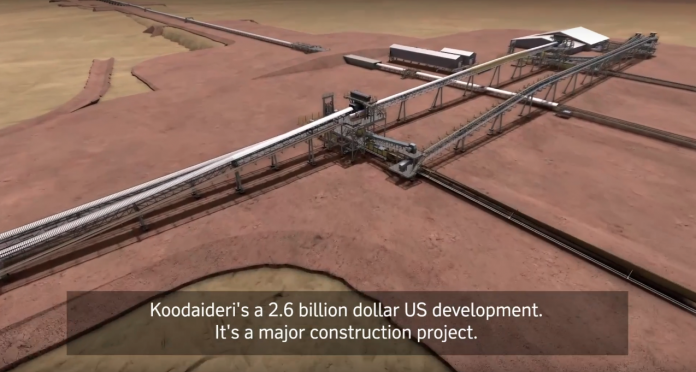 The Board of Rio Tinto has approved a $3.5 billion investment to develop a new production hub for its world-class iron ore business in the Pilbara.
The project will transform the company's Koodaideri iron ore mine in Western Australia into its most technologically advanced mine featuring technology such as autonomous trucks, trains and drills, as well as systems connecting all components of the mining value chain for the first time.
It also involves the construction of a processing plant and infrastructure such as airport, camp and road access, including a 166-kilometre rail line connecting the mine to the existing network.
Once complete, the mine will have an annual capacity of 43 million tonnes, underpinning production of the Pilbara Blend, the company's flagship iron ore product.
Rio Tinto chief executive J-S Jacques said the operation has been designed to utilise an increased level of automation and digitisation, helping to deliver a safer and more productive mine which is expected to be Rio Tinto's lowest cost contributor to its industry benchmark Pilbara Blend product.
"Koodaideri is a game-changer for Rio Tinto. It will be the most technologically advanced mine we have ever built and sets a new benchmark for the industry in terms of the adoption of automation and the use of data to enhance safety and productivity," he said.
"As we pursue our value over volume approach, targeted high quality investments such as Koodaideri will ensure we continue to deliver value for our shareholders and Australians.
"This further investment in our iron ore business is also a multi-billion dollar vote of confidence in Western Australia. The project will also deliver significant opportunities for local companies and we expect more than A$3 billion will be spent with Australian-based businesses, with opportunities for about A$2.5 billion of spending for Western Australian-based businesses during its development."
Construction will start next year with first production expected in late 2021.