Melbourne based, RMIT University has recently furnished a $30 million research facility for micro- and nano-technology upgrades.
According to RMIT, the 1200 square metre "City" university facility was established last week by Vice-Chancellor and President, Professor Margaret Gardner AO.
The MicroNano Research Facility (MNRF) is equipped with the world's first rapid 3D nanoscale printer,  which is capable of producing thousands of structures, at a fraction of the width of a human hair, in seconds.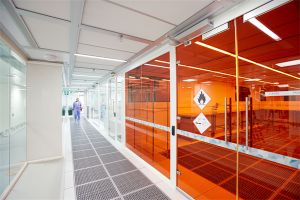 MNRF will also assist projects that covers the traditional fields of physics, chemistry, engineering, biology and medicine.
Professor Gardner believes the introduction of the laboratories and clean spaces highlights the beginning of their new chapter in interdisciplinary nano research.
"RMIT has long been a pioneer in this field, opening Australia's first academic clean rooms at the Microelectronics and Materials Technology Centre in 1983," said Professor Gardner.
"Over three decades later, this investment in the world-class MNRF will enable RMIT's leading researchers to continue to break new ground and transform the future."
According the statement from the university, the facility, which was designed by architects SKM Jacobs, also offers researchers access to more than 50 cutting-edge tools, including focused ion beam lithography with helium, neon, and gallium ion beams to enable imaging and machining objects to 0.5 nm resolution – about 5 to 10 atoms.
Professor James Friend, MNRF Director, has announced 10 research teams will participate at the new facility on a wide variety of projects.
"This facility is all about ensuring researchers have the freedom to imagine and safely realise the impossible at tiny scales and beyond," said Professor Friend.
Associated with the MNRF, the Micro Nano Teaching Facility (MNTF), admits undergraduate and postgraduate trainees to analyse clean room operations and micro-fabrication.