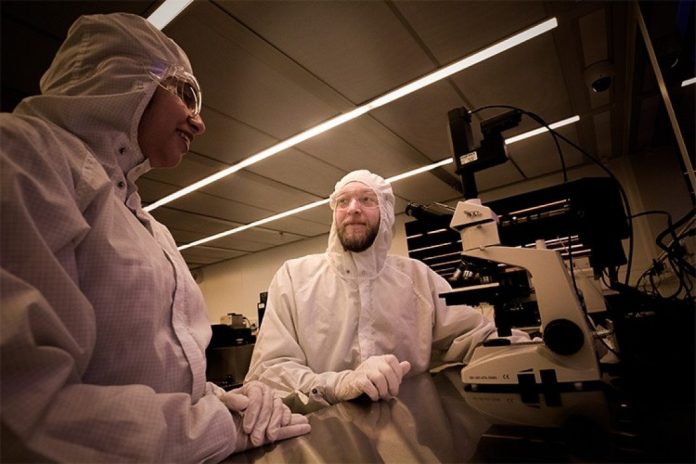 Associate Professor Madhu Bhaskaran from RMIT University's School of Engineering has been named one of Australia's top innovators by Engineers Australia for the development of stretchable oxide electronics that could be used to beat skin cancer.
These transparent, unbreakable and wearable electronics, which can be worn as skin patches or incorporated into clothing, have been used to  develop UV sensors that are able to alert the wearer to harmful levels of UV radiation, known to trigger melanoma.
Ms Bhaskaran said the technology – which combines oxide materials (the stuff that makes up the transparent layer on mobile phone touchscreens) with stretchable, rubber-like membranes – has the potential to revolutionise the field of wearable electronics, making the devices more lightweight and less expensive, while also providing better conformity.
"For the first time, I have demonstrated a universal transfer process that enables the incorporation of various oxide materials into elastomeric substrates for applications in wearable electronics and sensing," Bhaskaran said.
"This has been utilised to develop news devices like UV sensors that are stretchable, optically transparent, and as thin as a sticker."
With estimates showing that approximately two in three Australians will be diagnosed with skin cancer by the time they are 70, Ms Bhaskaran believes her breakthrough could help stop the spread of the deadly disease that causes thousands of deaths each year.
"The ability to create light-weight non-obtrusive sensors in the form of wearable patches or 'electronic skin' using biocompatible materials creates significant opportunity in health and performance monitoring," Bhaskaran added.
"Devices to alert people to dangerous exposure levels of pollutants or UV, to track health parameters, and to diagnose ailments such as cardiac function or sleep disorders in a wireless manner will significantly improve basic and chronic health management, improving people's standard of life."
She also noted that the ability to now combine brittle oxide materials with rubber-like membranes could also lead to the development of flat optical devices, smart contact lenses and sensors that could be placed on work and safety gear to detect dangerous gases in mines.
"Hydrogen leaks can lead to explosions, as happened with the Hindenburg disaster and nitrogen dioxide is a major contributor to smog," she continued.
"The ability to monitor such gases in production facilities and coal-fired power stations gives vital early warning of explosions, while the ability to sense nitrogen dioxide allows for a constant monitoring of pollution levels in crowded cities."
Image: Dr Madhu Bhaskaran with Philipp Gutruf
Credit: www.rmit.edu.au