UK-based Rolls-Royce Motor Cars has chosen Queensland's Gold Coast for a new 300-square metre facility – its third Australian showroom.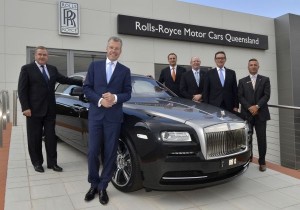 The showroom was officially opened and inaugurated last week by the company's CEO Torsten Müller-Ötvös who was joined by Paul Warren, Chief Executive Officer of The Peter Warren Group – the company's dealer partner in Queensland.
During the exclusive evening event, Rolls-Royce Motor Cars unveiled its newest model, the Ghost Series II which "features a discreet styling update with a range of innovative technological, design and engineering features that position it as the pinnacle super-luxury car for today's exceptionally successful and highly mobile entrepreneur."
"Australia is a very important market for us with which we share a rich century-long history. Since returning to the market in 2003 as Rolls-Royce Motor Cars we have enjoyed steady growth, and we see strong potential in the Queensland market. I am confident that our partnership with Sunshine Automotive will be successful, and together we will propel both excellent customer satisfaction and further sustainable growth," said Mr Müller-Ötvös.
"Today marks a milestone in our operations here in Queensland. Our appointment is testament to our extensive experience and capabilities in the super luxury automobile market. We are committed to delivering every Rolls-Royce client an experience beyond compare," said Mr Warren.
Rolls-Royce Motor Cars has announced that it expects to deliver a record of over 4,000 super-luxury motor cars this year, making 2014 the fifth consecutive record year and the highest in the marque's history.
According to the press release on the Web Wire, the company has also increased worldwide sales by 24.3% year-to-date (end October) in comparison with the same 2013 period.
Sales in Australia are on course for a record year with the brand represented in Sydney, Melbourne Gold Coast and Perth (showroom to open in 2015).