With temperatures in Australia constantly on the rise, the country's leading standards certifier and expert in business risk management is cautioning managers and supervisors of outdoor workers to make sure their protective clothing, hats and safety sunglasses meet Australian Standards®.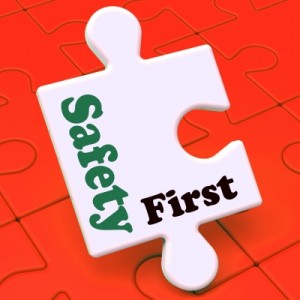 Experts urge workers to use products that display a certification mark such as SAI Global's Five Ticks StandardsMark™ to make sure they are properly protected against the harmful UV rays or potential long-term health issues such as cataracts, retina degeneration or cancer.
"A pair of fashion sunnies may protect eyes from the sun and glare however only certified safety sunnies are guaranteed to keep you safe from harmful UV or from debris and flying particles when you're on a work site. Similarly a non UV rated singlet or top may stop a worker from overheating, but there is the risk of UV skin damage and sunburn," explains Richard Donarski, Team Leader Health and Safety, Product Services at SAI Global.
As a recognised expert in his line of work, Mr Donarski provides his top tips for outdoors workers to stay safe this summer:
Don't choose protective items based on appearance. The darkness of the lenses should not be used to gauge protection from UV rays. The tint is designed to reduce glare. Also, be advised that the price tag does not tell the whole story. Low-cost sunglasses may be available and certified to meet Australian Standards and provide maximum protection from UV rays.
Avoid direct exposure to the sun. If your job description requires prolonged exposure to sun and there are no shades around, arrange for some portable shade to be on site with certified UV protective cloth. If possible, try to rotate employees so they are working under the shade at least some of the time.
Buy certified products. Not all products that claim to be certified are to an Australian standard. Make sure you purchase products with an appropriate certification mark, the Australian Standard reference, and should include the name of the organisation, the date it was certified and a Certification Licence number.
Always wear correct clothing. Make sure you wear a broad-brimmed hat that shades your face, ears and neck. Those that wear helmets should use a brim attachment or a legionnaire cover to ensure that they are protected. Also, closeness of weave, colour and condition can affect the ability of material to absorb UV rays, so do the research to confirm you've picked the right mix for your employees.
Know your limits. Take regular breaks, and if you feel sick and uneasy, stop working right away and find a cool area and hydrate. Also, it is advisable to avoid operating machinery and climbing high places until you've recovered.
Stay hydrated. Make sure you always have water on hand to drink at least every 20 minutes. Carry a water bottle with you to each area of the job to remind you to stay hydrated.
Use sunscreen. Choose a sunscreen that is broad spectrum and water resistant. Make sure you apply generously at least 20 minutes before you go to work. While sunscreens advise reapplication every couple of hours, when doing hard labour and sweating, you may need to reapply more frequently.