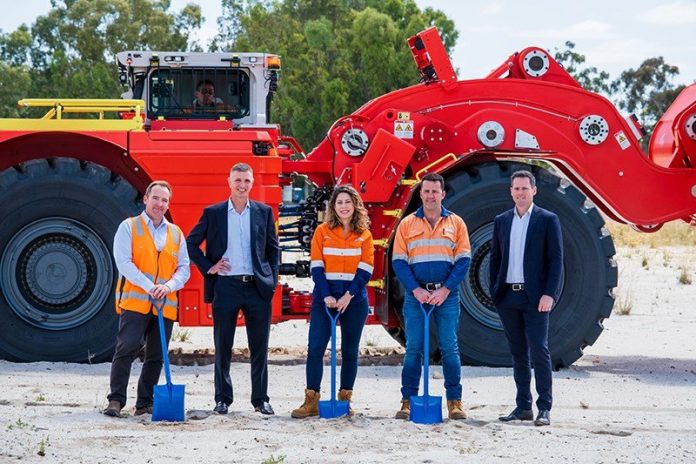 Engineering company Sandvik has commenced construction on a new purpose-built workshop in Perth, signalling its ongoing commitment to the Australian mining and construction equipment market.
The 16,000 square metre site, which is located at Roe Highway Logistics Park in Kenwick, Perth, will include a state-of-the-art workshop, modern office, meeting facilities, as well as testing and training equipment.
Sandvik Business Line Manager Nathan Cunningham said the site is located in a strategically important location, which will allow the company to 'better support Sandvik's Australian customers'.
"The strategic location of our new workshop, with its central position, freight rail and RAV7 truck access will enable us to further support our Western Australian customers and the purpose-build design will improve equipment repairs, inspections and our rebuild capability for our equipment offering," Mr Cunningham said.
"The improved layout, increased size, additional bays and design will enable our fully-trained service technicians, aftermarket support and technology specialists the ability to work more efficiently.
"To continue to support our customers, we need to continue to invest in facilities that will not only support our existing markets, but will also have the capacity and capability to support the growing demand for future products, such as our electric load and haul offering."
Kate Bills, Sustainability, Marketing & Communications Manager at Sandvik in APAC said the new workshop will be fully accredited and work to OEM standards and will also include best-practice water management, energy efficient lighting, natural ventilation and rainwater harvesting.
"At Sandvik, we want to ensure that sustainability is integrated into everything we do. This includes reducing our CO2 footprint, minimizing waste in our production process and providing the highest safety standards for our employees," Ms Bills said.
"As part of Sandvik's sustainability goals, we're aiming to halve our C02 footprint by 2030, so the new workshop incorporates state-of-the-art design elements to help us achieve this such as solar panels, green concrete and the use of low carbon building materials."
Construction of the new workshop is scheduled for completion in 2021.
Image credit: https://www.rocktechnology.sandvik/