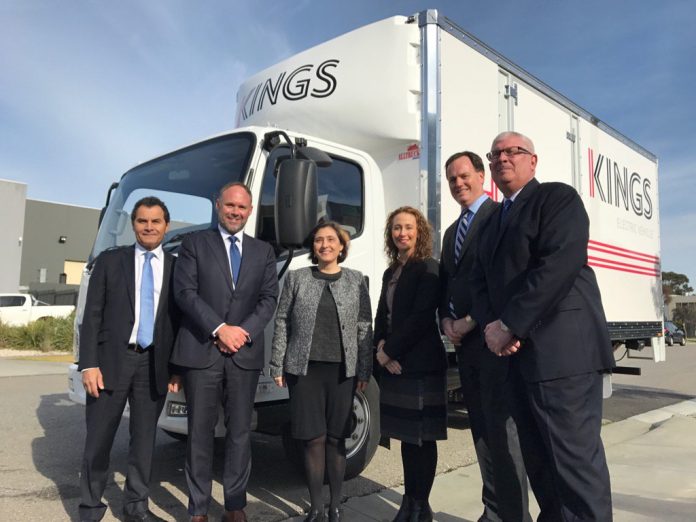 Geelong-based SEA Automotive has rolled out the first of a fleet of nine electric trucks for Australian transport company Kings Transport.
The truck was manufactured at the company's assembly facility in the greater Geelong region, which features SEA's proprietary technologies in electric vehicles for the Victorian, Australian and regional markets.
Minister for Energy, Environment and Climate Change Lily D'Ambrosio, who was in Dandenong to see the first electric truck produced by SEA Automotive, said the project was made possible thanks to funding received from the Labor Government through the $20 million New Energy Jobs Fund.
"Today we're seeing the results of a fantastic initiative, made possible thanks to our New Energy Jobs Fund," the Minister said.
"We're helping businesses right across the state develop a diverse range of new energy technology projects to help support this vital sector."
She said the project was aimed at accelerating the application of carbon neutral vehicles in Australian transport and bringing SEA Automotive's commercial electric vehicles to the Australian and New Zealand markets.
"The long-term aim of this project is to develop an innovative range of electric-powered commercial vehicles for a wide range of purposes," the Minister added.
The SEA trucks feature a modular electric drive power pack system which can be used to power new medium duty vehicles or repower existing diesel trucks.
Under the agreement with Kings Transport, SEA Automotive is to deliver three 15-tonne Volta models, three 10-tonne Sturgeon trucks and three Musk light vans.
The initiative is expected to create around 80 high-skill jobs for automotive assembly workers in the Geelong region over the next four years.