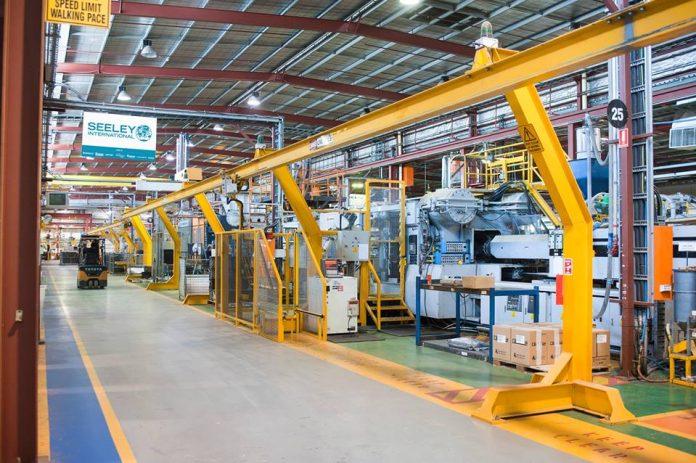 Australia's largest air conditioning manufacturer Seeley International has announced a $20 million investment to relocate its existing Albury manufacturing plant to a larger purpose-built facility which will be constructed at nearby Wodonga.
According to the media release to Australian Manufacturing, the new Wodonga manufacturing facility will be operational at the beginning of 2019.
"As a long-standing employer within the Albury-Wodonga community, Seeley International is pleased that this investment accommodates our expansion needs and positions the Company for significant jobs growth and success in the years ahead – with 64% forecast growth in new local employment opportunities expected to be created in the next 5 years," said Seeley International founder and Executive Chairman, Frank Seeley AM FAICD.
"Our local manufacturing facility continues to play a critical role in our overall operations, and as well as continuing to fully manufacture award-winning Braemar heating products, the Climate Wizard metal range and the entire AIRA product range, we have also recently welcomed a dozen new engineers and other team members to the plant."
The investment is partly funded by a grant from the Victorian Premier's Job and Investment Fund. With the new state-of-the-art manufacturing hub, Seely is set to cement its position as a market leader in the design and manufacture of ducted and portable heating and cooling products for the domestic, commercial and industrial markets in Australia and the world.
"One of the biggest challenges we now face is that we have outgrown the existing factory, and with space at a premium it has fast-tracked the need for relocation plans. Establishing a new and larger facility at nearby Wodonga allows us to retain and grow local employee numbers and maintain a strong employer presence within the local community," Mr Seeley said.
"Seeley International continues to commit high annual expenditure on research and development of new manufacturing techniques, and to create innovative products that are the most energy efficient, necessitating state-of-the-art facilities to enable this to happen."
He said the company was a "living proof" that the Australian manufacturing sector could have a bright future if businesses make smart decisions when it comes to investments.
"We have been able to compensate for the higher costs within Australia by focusing on innovation, world class technology and high levels of automation, while many others are closing doors or downsizing. Seeley International is bucking the trend and is starting to ramp up employment growth at our Albury manufacturing plant which is expected to grow over the coming months," Mr Seeley continued.
"As the home of Braemar gas heaters and air-conditioners, our Albury-based plant has established a vertically integrated manufacturing and assembly operation that employs more than 125 people. As well as being a major employer in the region and supporting a number of worthwhile local causes for more than 20 years, we look forward to the area's economy also reaping the flow-on benefits that will come with our new location and expanded workforce."
Premier Daniel Andrews, Minister for Industry and Employment Wade Noonan and Member for Northern Victoria Jaclyn Symes welcomed the announcement as the move to Wodonga is set to create over 300 new Victorian jobs (205 new manufacturing jobs, new jobs for specialist engineers at the research and development centre, and further 76 jobs created through the supply chain).
"This is a major investment in local manufacturing in Wodonga, and another vote of confidence in regional Victoria. Seeley International's expansion in Wodonga will create hundreds of new jobs, boost production and ensure the company continues to take on the world with their cutting edge products and highly skilled workforce," said Premier Daniel Andrews.
"From manufacturing to the supply chain – this is a major jobs boost for regional Victoria. We will continue to get behind businesses like Seeley so they can establish a presence in our regions, grow their operations and create jobs," added Minister for Industry and Employment Wade Noonan.
Image credit: Seeley International Facebook page