Global technology giant Siemens has become the latest high-profile company to invest in Tonsley, WA, with the opening of a new cutting edge maintenance and repair facility for its energy technology business.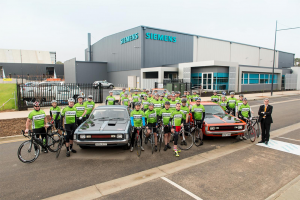 Siemens' new service centre was designed using a lean manufacturing methodology to make it flexible in terms of production set-up and delivery, with a 22% faster turnaround and 65% more throughput while using 14% less floor space.
Launching the new $5 million purpose-built facility on Wednesday, Treasurer Tom Koutsantonis said Siemens' commitment to Tonsley was a significant development for the region given the company's "vast global experience" and its technology base.
"Siemens is one of the world's largest engineering and advanced technology firms and has been in Australia for more than 140 years. Siemens has been involved in South Australia since the first telegraph line between Darwin and Adelaide, through to today where its technology is helping produce clean drinking water and create renewable energy with the most efficient wind turbines," Mr Koutsantonis said.
"With the move to Tonsley, Siemens will be able to work alongside the world-class research and training facilities of Flinders University and TAFE SA already on site, accelerating the design, testing and commercialisation of products, systems and services. Initially, the Siemens site will employ around 25 people with plans to double this workforce in line with projected growth of the business."
He said the investment demonstrated the growing confidence in the future for South Australia.
"Tonsley offers great potential for innovation and industry collaboration, bringing together complementary businesses with leading academic institutions. It represents a new future, with a net economic benefit to the state of $492 million," Mr Koutsantonis said.
"To have this great company firstly invest, but secondly be so vocal in its commitment to Tonsley, speaks volumes for the vision the State Government has for this site as an incubator for innovation, research and technology."
Siemens CEO Jeff Connolly, who joined Mr Koutsantonis at the official opening of the new facility, said the company was proud to deliver on the promise made in a Memorandum of Understanding signed in 2012 to support the redevelopment of Tonsley and to assist in establishing a national and global model of a sustainable technologies precinct.
"A long-term viable manufacturing and technology sector matters to South Australia and also matters to Siemens. With this facility in Tonsley we are in a unique position to partner with the state on a diverse range of critical industries and projects," Mr Connolly said.
"Think about all the countries who got rid of manufacturing such as the UK and US – they've now all brought it back to life in a modern form because they realise the direct and indirect economic benefits."