Siemens PLM has once again demonstrated its value as it helped Indian hydraulics systems manufacturer Pascal Systemtechnik overcome its product development challenges and significantly increase its design efficiency and output.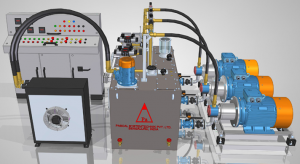 Pascal Systemtechnik designs, manufactures and commissions hydraulic systems, including hydraulic cylinders, special actuators, electrical/electronic control panels and control systems.
The company's main challenge was that its old system required its engineers to manually check for errors that occurred in the design process, making the process costly, lengthy and inefficient. Often the errors were discovered late in the development process, and multiple design revisions have to be done to overcome the errors. Assembly verification and 3D modeling also proved to be difficult for the engineers.
According to a case study from Siemens PLM, Pascal Systemtechnik selected Solid Edge software from Siemens after evaluating several product lifecycle management (PLM) systems. The company recognized that Solid Edge is a standout for its flexible functionality, including its ability to generate 2D draft options, produce manufacturing production drawings and readily generate a bill of materials (BOM).
"We felt that the cost reduction in design we could achieve using Solid Edge, plus the ability to provide on-time product delivery to our clients, would enable us to enhance our reputation and get new customers," says S.S. Manjunatha, director of product design at Pascal Systemtechnik.
"Other factors impacting selection included the depth and breadth of technology offered by Siemens PLM Software and the support we saw from Siemens PLM Software's distributor/partner to understand and address our issues. With such complete 2D/3D functionality, we knew that Solid Edge would deliver unique capabilities to meet our needs."
Ever since they started using Solid Edge, Pascal Systemtechnik has been able to release a larger number of designs, quickly and effortlessly. As a result the cost per design has been reduced dramatically.
Solid Edge has also allowed the company to track productivity gains through automated BOM generation which includes a complete list of fittings and hardware list generated from the solid models that the company's engineers create. As a result, models are more accurate and can be easily verified whenever required.
"Solid Edge is helping the company open new doors," says Manjunatha. "Now we are confident we can complete our design work on time and with greater innovation and quality built-in."
"Even if our business grows by two or three times its current size, we are confident that with Solid Edge, we can get the job done according to the highest standards and on time."