Simplot Australia is firming up to be the frontrunner to acquire Black Swan, one of Australia's most-loved dip brands, for an expected sum of $50 million, The Australian reports.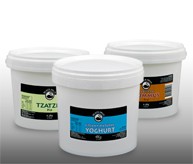 Black Swan, which is owned by Melbourne family business Poseidon Tarama, has been in the market through Deloitte since January, according to a related report.
Deloitte Corporate Finance partner Victoria Brilliant says Black Swan has the largest market share for dips and chilled yoghurt dips in Australia and reportedly creates 20 million tubs of dips for the Australian market each year.
According to the release, the sale will include a Clayton-based manufacturing plant, a product line consisting of more than 70 Black Swan products, as well as distribution agreements with supermarket chains nationally including Coles, Woolworths, Aldi and IGA. Black Swan has a staff of about 70 people.
The business was put on sale in connection with a dispute in the Family Court of Australia, which involves its chief executive Con Saristavros. Con's brother and company founder Christos began selling fish roe dip and hummus dip at the South Melbourne Market more than three decades ago. He was murdered upon returning from a charity event in 2000, a case which up to this day remains unsolved.