The solar manufacturing industry will pick up the pace in the next three years and continue growing as technology costs decline and demand for installation grows, says Jifan Gao, the Chairman of Trina Solar Ltd.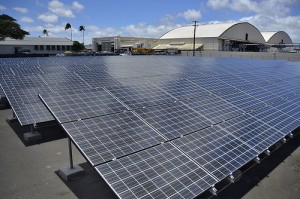 According to the article on the Sydney Morning Herald, Mr Gao predicts China to remain a leading force in the solar manufacturing industry. In an interview at the World Economic Forum in Davos, Switzerland, Mr Gao said he expects three to five leading solar companies from about a dozen companies with the capacity to produce more than 1 gigawatt of solar cells a year to remain in China by 2017.
"Consolidation will continue," said Mr Gao. "We've only seen the first stage. That will be a good situation. This will be achieved by Switzerland mergers and acquisitions."
Mr Gao expects earnings to increase as sales mount and costs drop. Despite Trina posting its first profit in more than two years in the third quarter, its shares have more than tripled since November.
"I see a 20% to 25 % annual increase in installations across the industry, and Trina will certainly beat the average," Gao said. "Our revenue and profits should also grow, in line with such market expansion."
Trina currently ranks as the world's fourth biggest solar panel maker. Its biggest market competitors are Yingli Green Energy Holding Co., Suntech and Canadian Solar Inc.
Solar-cell prices have dropped by 70% in the last three years, prompted by the expansion of production capacity which overtook the growth in demand. The reduced profit margins that followed saw the world's leading solar-panel maker, Suntech Power Holdings Ltd., file bankruptcy proceedings in China.
Chinese manufacturers have managed to outlive several direct competitors in the market because they cut costs more quickly, said Mr Gao.
"It's not about government subsidy," he said. "We don't get as much subsidy as for example German companies. It's also a mistake to think that China Development Bank loans are cheaper than loans from commercial banks. It's about the same."
According to him, Trina does not intend to follow the path of other solar manufacturers, who consider merging with a company such as Guodian Technology & Environment Group Corp., a supplier of renewable- energy equipment to power generators. That would be more logical than a takeover by a major oil company such as China Petroleum & Chemical Corp., or Sinopec, he said.
"In China, it makes sense for utility companies such as Guodian to expand into solar because that's a vertical integration," he said. "It doesn't make too much sense for the likes of Sinopec," said Mr Gao.