French software company Dassault Systèmes has entered into a partnership with RMIT University to provide a new design and manufacture software platform for students and staff.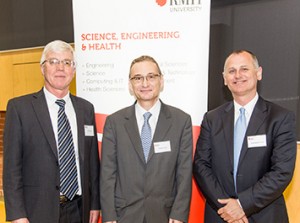 According to the news release from RMIT, about 1,500 students will have access to advanced software platforms for 3D visualisation, design and simulation.
Dassault Systèmes' Vice President Global Academia and Education Thierry Collet said their company is proud that RMIT is now among the world's most advanced users of its 3DEXPERIENCE platform.
"RMIT students will acquire cutting edge competencies in collaborative and multi-disciplinary engineering, and educators will enjoy a wealth of opportunities to extend their teaching practices in multiple directions," Mr Collet said.
"In addition, new hands-on learning experiences in the field of systems engineering will be possible and will provide the relevant RMIT programs with a competitive edge."
The collaboration will allow access to high-tech software and support learning resources which can be applied in various industries around the world including manufacturing, automotive, aerospace and construction.
Students will have access to the Catia V6 which is currently used by universities in the United States including Purdue University, Virginia Tech and Georgia Tech. The collaborative software platform allows users to work on projects concurrently in real time.
During the official launch of Dassault Systèmes at RMIT's Advanced Manufacturing Precinct, Mr Collet also presented the Academy plaque to Professor Aleksandar Subic, Dean of Engineering and Head of the School of Aerospace, Mechanical and Manufacturing Engineering.
Professor Subic was instrumental in setting up the partnership and said the launch marks an important educational and research milestone in engineering at RMIT.
"Our strong links with the global aerospace, automotive, manufacturing, construction and other industry sectors will be further enhanced through this partnership, as we will be fully compatible in terms of the software platforms we use in our teaching and learning, and professional engineering work," Mr Subic said.