The Federal Government has announced that Spanish ship builder Navantia will move a design and management team into ASC's shipyard to oversee the ongoing construction work in Adelaide for the Australian Navy's Air Warfare Destroyers (AWD).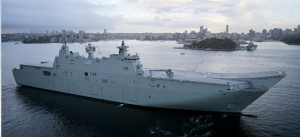 "Following a limited tender process, Navantia SA has been selected to bring an experienced shipbuilding management team into ASC Pty Ltd (ASC) to maximise program performance through to the end of the three ships' construction. Navantia will also locate a design team in the Osborne shipyard," said Federal Minister for Defence Marise Payne.
"This latest step is the culmination of a number of reforms we have made to address budget and schedule overruns and bring the project back on track. These reforms included improvements to the senior management at ASC Shipbuilding and inserted additional shipbuilding and related capability from Navantia, BAE Systems and Raytheon Australia."
ASC has welcomed the Federal Government's announcement regarding the long term reform arrangements for the AWD Program.
"We are a learning organisation and we are applying the lessons learnt from the first ship to the second and third. The introduction of Navantia to lead a realigned Shipbuilding Integrated Product Team within the AWD Alliance will help us to efficiently complete the test, activation and trial stages of the ships," said ASC Shipbuilding Interim CEO Mark Lamarre.
"This is an opportunity to further build our shipbuilding expertise and knowledge so that we can more effectively conduct our role as shipbuilder on the AWD Project. ASC already has a very good working relationship with Navantia and we look forward to continuing our close collaboration with them."
Navantia's insertion into the program has also been welcomed by state Defence Industries Minister Martin Hamilton-Smith.
"Today marks another major milestone in the Air Warfare Destroyer program, the most complex shipbuilding project ever delivered in Australia," said Mr Hamilton-Smith.
"Project challenges caused by the traditional boom-bust nature of Australia's naval shipbuilding have been overcome, with significant productivity improvements now being realised from Ship 1 to Ships 2 and 3. These results are a testament to the skill and hard-work of ASC's workforce at Techport Australia, and the broader Air Warfare Destroyer Alliance team."