The Victorian Automobile Chamber of Commerce (VACC), which represents the interests of the state's automotive supply chain, has welcomed the Andrews Government's launch of a $46.5 million plan to support Victoria's automotive industry.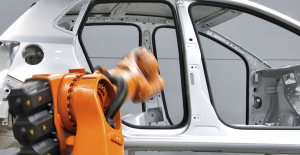 The Towards Future Industries: Victoria's Automotive Transition Plan provides assistance for businesses, workers and communities affected by the closure of Ford, Holden and Toyota's manufacturing plants to meet the challenges ahead and capitalise on emerging opportunities.
VACC Executive Director, Geoff Gwilym, said he was happy to see automotive supply chain businesses included in the plan.
"We are pleased to see a multifaceted approach to address this issue," Mr Gwilym said.
The Government has also set up a $33 million Local Industry Fund for Transition (LIFT) to support the creation of jobs in communities in Melbourne's north, west, south-east, and the Geelong region.
The plan also includes $5 million of assistance for the automotive supply chain in Victoria, with tailored support to help suppliers continue operations.
Mr Gwilym said eligible automotive suppliers will be able to access specialist business advisers to help implement strategies to improve their business performance and transition into new markets.
"Many of these businesses have some tough times ahead once the factories close down, but many others are looking at these closures as an opportunity, and we're glad to see the Victorian Government supports that," he said.
Gwilym said many automotive supply chain businesses had switched to supplying other automotive manufacturing operations, while others had transitioned to entirely different sectors, including medical technology, food manufacturing and construction.
"With assistance to keep businesses operating where viable, the outcome for the community is far greater than seeing a business close and jobs lost," he said.
Additionally, businesses employing retrenched automotive workers will receive incentive payments of up to $7,000, with further incentives of up to $4,000 available for training workers hired under the scheme.
Victorian Premier Daniel Andrews said the program was specifically designed to provide targeted assistance across the state.
"We are supporting Victorian auto workers, businesses and affected communities by creating jobs and building skills," he said.