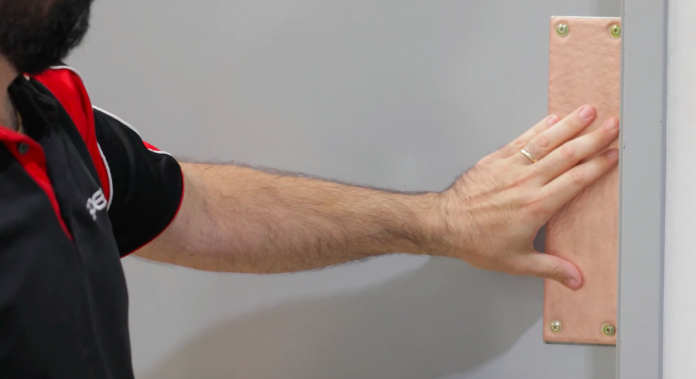 Australian manufacturer SPEE3D is working with Swinburne University to trial copper door push plates that kill the bulk of the COVID-19 virus, in just two hours.
Made of anti-microbial copper known as 'ACTIVAT3D copper', the material has been developed by modifying SPEE3D's 3D printing technology and can be used to coat surfaces that are commonly touched such as door handles, push plates and railings.
Laboratory tests have shown that touch surfaces modified by this process 'contact kills' 96% of the virus in just two hours, and up to 99.2% within 5 hours. In comparison, stainless steel – the material typically used in hygiene environments – showed no reduction in the same time frame.
Swinburne Associate Professor Suresh Palanisamy says copper parts are difficult to produce using traditional methods and 3D printing is one of the only tools available to rapidly deploy copper.
"Swinburne University of Technology in partnership with SPEE3D quickly responded to the current situation and manufactured ACTIVAT3D copper push plates in a short timeframe," says Swinburne Associate Professor Suresh Palanisamy.
"Using the LightSPEE3D printer in our Factory of the Future we have successfully coated a number of existing stainless steel plates and confirmed the speed and ease of this coating process. Further, trial installations have clearly demonstrated the simplicity and practicality of replacing conventional stainless steel with the new ACTIVAT3D plates."
SPEE3D CEO, Byron Kennedy, says the company focused on 'developing a solution that can be rapidly deployed and is more efficient than printing solid copper parts from scratch'.
"The lab results show ACTIVAT3D copper surfaces behave much better than traditional stainless steel surfaces and this may offer a promising solution to a global problem," Mr Kennedy continued.
"The technology can be used globally, addressing local requirements be they in hospitals, schools, on ships or shopping centres."
Image credit: https://www.spee3d.com/activat3d-copper/