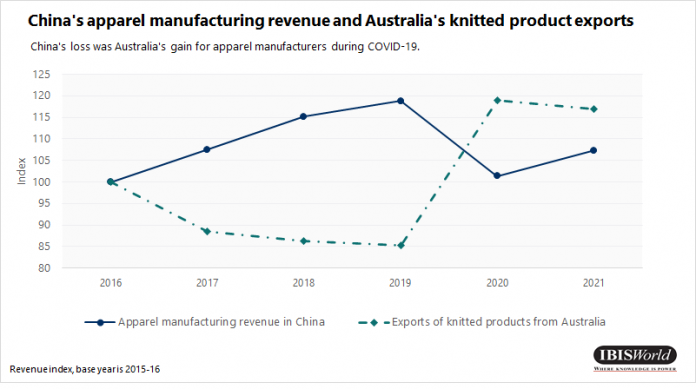 Media Release
Australia's manufacturing sector has been hammered by the COVID-19 pandemic, declining by 5.7% over the two years through 2020-21. However, the Knitted Product Manufacturing industry has bucked this trend to achieve a 13.2% increase in revenue over the same period, to $90.6 million. Global supply shortages and tariff reductions have opened up new doors for clothing manufacturers in Australia.
'Australian knitted product manufacturing has been in long-term decline, with revenue contracting at an annualised 5.6% over the five years through 2020-21. However, export revenue has increased by 37.1% during the COVID-19 pandemic, providing a lifeline to Australian businesses,' said IBISWorld Senior Industry Analyst Ross Dean.
The upside of COVID-19
The Clothing Retailing industry contracted by 8.5% in 2019-20, amid a collapse in consumer sentiment. However, the outbreak also had an unexpected benefit for Australian clothing manufacturers. The pandemic disrupted supply across North Asia, which typically accounts for close to 40% of the Global Apparel Manufacturing industry.
'The loss of supply from Asia left the global economy looking for other sources of clothing, supporting demand for Australia's clothing manufacturers. For example, Australian exports of knitted apparel to Japan jumped by more than 320% in 2019-20, and exports across the Men's and Boys' Wear Manufacturing industry increased by 33.9%,' said Mr Dean.
Export markets step up
The drop in China's output was only temporary, but it has expanded export opportunities for Australia's clothing manufacturers, especially with recent tariff reductions on apparel exports to New Zealand.
'While domestic demand is projected to continue declining, exports of knitted garments are forecast to grow by an annualised 1.8% over the five years through 2025-26,' said Mr Dean.
A vital driver of this growth is expected to be recent changes to tariffs on knitted apparel and other clothing items to New Zealand. Under free trade agreements with ASEAN and New Zealand, the tariff on knitted items such as jerseys and pullovers dropped from 10% in January 2019 to 0% in January 2020. Further tariff reductions through the Comprehensive and Progressive Agreement for Trans-Pacific Partnership are expected by January 2024.
'The temporary disruption of Asian clothing manufacturers provided Australian firms with a short window to expand their foothold in export markets. Australian firms may be able to leverage greater brand awareness and declining tariffs to drive growth in export revenue,' explained Mr Dean.
New Zealand is the primary export market for Australia, with an estimated 34.7% of knitted product exports going across the Tasman in 2020-21. For an industry in long-term decline, this market is providing a rare and much needed opportunity for Australian clothing manufacturers.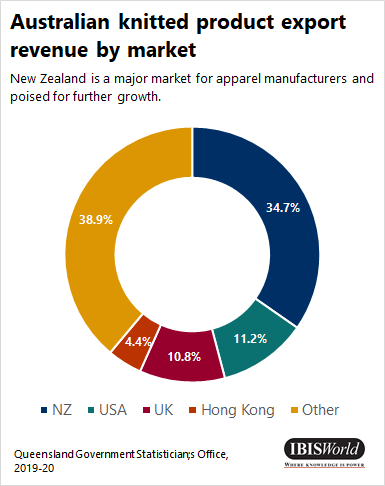 'Australian clothing manufacturers will likely place greater focus on the New Zealand market in the future. However, the rapid pace of export growth seen in 2020 will not likely be sustainable,' stated Mr Dean.
Appreciating dollar looms
One factor that will likely work against domestic clothing manufacturers is the forecast appreciation in the Australian dollar.
'The value of the dollar is expected to rise at an annualised 0.8% over the next five years. While this growth is marginal, it is a far cry from the 4.6% depreciation in Australia's currency in 2019-20, which also played a part in knitted product exports skyrocketing,' explained Mr Dean.
With the dollar expected to strengthen, domestic-made products will become more expensive and therefore less desirable to overseas markets. This is especially true for New Zealand, where the New Zealand dollar is projected to depreciate at an annualised 0.6% over the next five years.
Outlook
The number of apparel manufacturers in Australia has fallen by more than 50% over the past decade, as firms have either moved operations offshore to countries with cheaper labour costs or simply exited the industry. Those that remain have survived by focusing on supplying premium products to niche or overseas markets.
'These clothing producers face a difficult balancing act as they try to keep production costs in check while also making premium products. However, operators that can successfully capitalise on the opportunities created during the pandemic may be able to buck declining trends across Australia's manufacturing sector,' concluded Mr Dean.