Medical science has received yet another boost as Stratasys Asia Pacific in collaboration with Malaysia's University of Malaya Center for Bio-medical and Technology Integration unveiled their latest work– lifelike bio-models using Stratasys 3D printing technology. The models simulate endoscopic neurosurgical procedures and has the potential to forever change surgical planning and training landscape.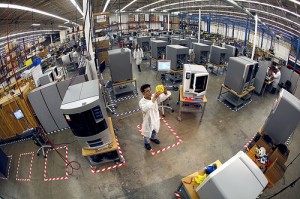 Stratasys Asia is a subsidiary of Stratasys Ltd, a company that deals in manufacturing 3D printers and materials for personal use, prototyping and production, while CBMTI specializes in creating custom bio-models for purposes of training and research to help increase training experience.
The collaboration between the two parties resulted in the production of models that feature different textures and densities over the surface and the interior, which makes it ideal for simulating body parts in efficient and cost-effective manner, reports PR Newswire.
The first step of the process involves conducting CT and MRI scans that are later converted into imaging data with material characteristics assigned to each portion. The data is then forwarded to the 3D printers that use it to build physical models that are accurate both spatially and anatomically.
"Creating custom bio-models used to be an extensive and painstaking process. To closely mimic human organs, the process can sometimes take up to a few weeks, which proved to be a slow and costly method," commented Yuwaraj Kumar Balakrishnan, Operations Manager of CBMTI.
"Stratasys 3D Printers are the ideal platform for innovation. We have gone from being only able to mold titanium plates for cranial implants to being able to create bio-models with pathology from actual patient imaging data. Simulation of navigation and endoscopic neurosurgical procedures are simulated as closely as possible with these 3D printed models. This is a major breakthrough from both  research and training perspectives."
The collaboration has proved to be beneficial for both parties, as CBMTI increased its production capacity by 40% with Stratasys' 3D printers, which also includes the use of Object Connex 3D printer and the Eden 3D Printer.
Jonathan Jaglom, General Manager, Asia Pacific & Japan at Stratasys said that the company's goal is to offer cutting-edge technologies in order to assist innovative industries to open the door to endless possibilities. Mr. Jaglom said that he was honored that Stratasys was able to play a role in contributing and shaping the healthcare and bio-modeling industry.