Employers and site managers in the agriculture, construction, resources and manufacturing industries need to assess the effectiveness of the personal protective equipment for their employees.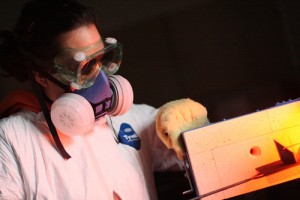 The recommendation comes in an environment where many suppliers and retailers offer protective equipment that fails to meet strict Australian safety standards.
SAI Global warns that not all safety products meet mandatory requirements.
The company is behind the Five Ticks StandardsMark™ certification which is the most recognised certification mark for personal protective equipment.
Richard Donarski, Team Leader Health and Safety, Product Services at SAI Global, says some manufacturers and suppliers may not comply with the Australian Standards for safety equipment and others are just ignorant of them, particularly in cases when a product is developed overseas.
"It's a common misconception that all personal safety items are subject to and must meet mandatory standards," says Richard. "The reality is, as many standards aren't legislated, manufacturers choose not to apply standards to their processes. The consequence is that the very products designed to keep us safe may not necessarily do their jobs as expected."
According to research results, around 130,000 Australians per year make serious workers' compensation claims due to work related illness or injury.
Introducing personal protective equipment that has not been independently certified into the workplace, means exposing employees and others to possible illness or injury.
"Toxic poisoning through inhalation or skin contact, fragments in the eye, cuts and amputations, skull fractures and even loss of hearing can all be a result of incidents that occur while using uncertified personal protection equipment," says Mr. Donarski.
SAI Global is continuously working with national and international manufacturers in order to ensure that equipment and products that comply with Australian and international quality and safety standards are available to Australian consumers.
As an expert in health and safety products, Richard Donarski offers five tips to choosing personal protective equipment in the workplace:
1.       Ask an expert. While all equipment looks the same, it doesn't necessarily mean that it does the job.
2.       Purchase certified safety equipment only.  Look out for the Five Ticks 'Certified Product' StandardsMark™ or enter the Certification Licence number online at http://register.saiglobal.com/ to source further details.
3.       Be careful when buying second hand.  Second hand DIY equipment may come with zero instructions and may malfunction.
4.       Double check all sizes.  Check all sizes with employees before placing orders for products and, once they arrive, test that these fit accordingly.
5.       Renew and evaluate equipment regularly.
For more information on product certification visit www.saiglobal.com/assurance