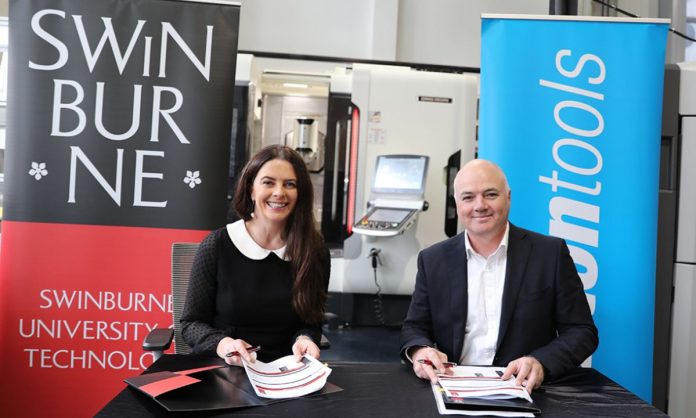 Swinburne University of Technology and Australian family business Sutton Tools are establishing a joint Smart Manufacturing Centre to work on projects in advanced manufacturing over the next five years.
The announcement builds on a longstanding relationship between Swinburne and Sutton Tools that dates back to the early 1990s and underscores Swinburne's research strengths in the manufacturing sector.
Swinburne, which played a prominent role in the establishment of Surface Technology Coatings (part of the Sutton Tools organisation), has been studying the cutting tool life of hard-to-machine materials such as titanium as part of a project that aims to assist with lengthening tool life and reducing the cost of the manufacturing process.
Sutton Tools Managing Director, Peter Sutton said the new centre – to be based in Thomastown – will play an important role in training students, staff and industry end users and will pursue joint R&D activities through different funding bodies.
"Sutton Tools and Swinburne's strengthening collaboration will be instrumental in the continued local development and manufacture of advanced engineering cutting tools," Mr Sutton stated.
He said the collaboration includes the loan of equipment from Swinburne to Sutton Tools, the joint funding of three PhD scholarships and the placement of undergraduate and postgraduate students with Sutton Tools as part of Swinburne's Work Integrated Learning program.
"We see the Smart Manufacturing Centre as not only crucial in supporting research and development, but as importantly, providing the infrastructure to train both current and future engineers in systems and techniques required by increasingly demanding machining applications," he concluded.
Image credit: https://www.swinburne.edu.au/