Tesla Motors is building a $5 billion "gigafactory" for lithium-ion batteries that will have the capacity to produce enough battery cells to power half a million cars by 2020.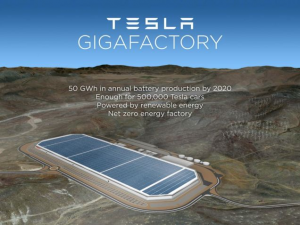 Despite recent reports of construction delays, the electric-car company said its battery factory near Reno, Nevada, was still on schedule to be completed by 2016.
"The project is progressing and the gigafactory is still on schedule," Alexis Georgeson, a spokeswoman for Tesla told Bloomberg on Friday.
Once completed, the plant will produce more than double the world's current supply of lithium-ion batteries, allowing the company to substantially reduce costs of building electric cars.
Battery packs manufactured in Tesla's new gigafactory will be fitted in the Model S sedan and the upcoming Model X sport utility vehicle, as well as in the more-affordable Model 3 vehicle.
The company said that the new facility will employ approximately 6,500 people, with hiring priority given to Nevada residents and veterans.
Tesla announced the project six months ago, claiming that the first batteries will roll off the line in about three years — when Tesla plans to launch its new Model 3.