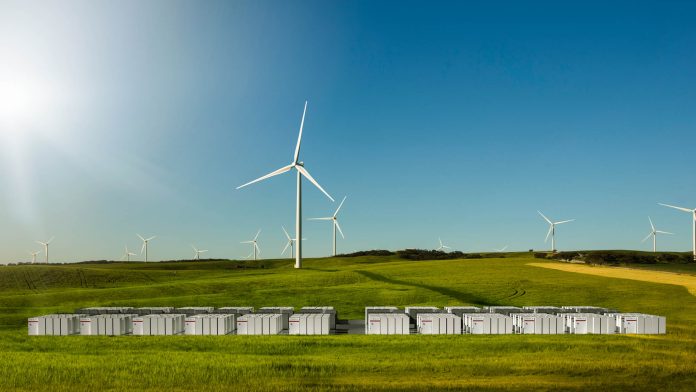 South Australian Premier Jay Weatherill has flicked the switch on the world's largest lithium ion battery following a successful period of regulatory testing that ensured the battery's ability to both act as a generator and charge to and from the National Energy Market.
Built by Tesla under a historic agreement with French renewable energy giant Neoen and the SA Government, the 100MW / 129MWh battery is connected to Neoen's Hornsdale windfarm providing stability services for renewable energy, as well as emergency back-up power if a shortfall in energy is predicted.
Premier Weatherill, who was joined by Neoen Deputy CEO Romain Desrousseaux at the official launch ceremony, said the state was now leading the world in dispatchable renewable energy, delivered to homes and businesses 24/7.
"This is history in the making," the Premier stated.
"Neoen and Tesla approached the State Government with their bold plan to deliver this project, and they have met all of their commitments, ensuring South Australia has back up power this summer."
"I want to express my gratitude to the workers who have constructed this battery – they have every right to be proud of what they've constructed."
Mr Desrousseaux thanked the SA Government for helping bring the state to the forefront of global energy storage technology.
"Neoen is focused on delivering long-term, sustainable energy solutions to the country and ambitious projects like the Hornsdale Power Reserve will contribute to South Australia leading the way into a clean energy future," he continued.
"Neoen is pleased to be able to reinforce its Australian footprint through the achievement of the Hornsdale Wind Farm & Battery and is extremely proud to contribute further to the development of renewable energy in Australia."
Tesla, which delivered on its promise to build the battery within 100 days or give it away for free, said the completion of the project in record time showed that a sustainable, effective energy solution is possible.
"We are proud to be part of South Australia's renewable energy future, and hope this project provides a model for future deployments around the world," reads the statement.
"The South Australian Government should be congratulated for ensuring their energy supply is not only sustainable, but will help solve power shortages, reduce variability, and manage summertime peak load."
The battery, which is located near Jamestown, will operate around the clock and will store enough energy to power 30,000 homes for about an hour.
Image credit: www.tesla.com