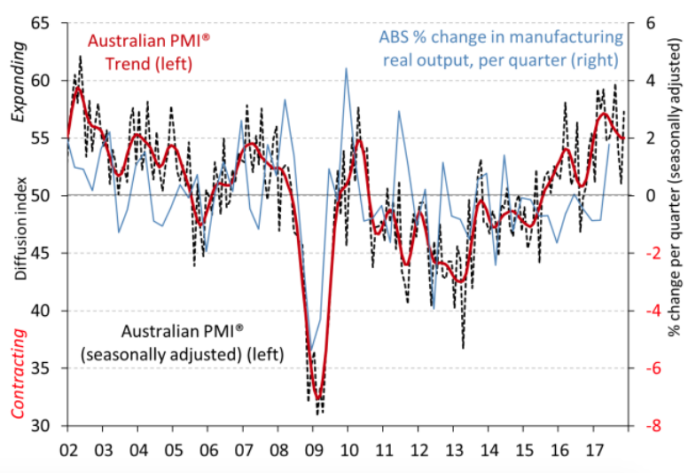 Australia's manufacturing sector has registered its 14th consecutive month of expansion – the longest run of growth since 2005.
According to Ai Group's report, the Australian Performance of Manufacturing Index (Australian PMI) jumped 6.2 points to 57.3 in November, driven by the strong growth in sales, production and employment, and the rise in new orders.
Ai Group's survey has found that all seven activity sub-indexes in the Australian PMI improved in November and all indicated expansion in the month.
New orders, which went up 5.3 points to 60.4 points, and exports, up 8.9 points to 57.6 points, were found to be especially strong, indicating a good potential for growth in 2018.
The survey also found that five of the eight manufacturing sub-sectors expanded in November, led by the very large food & beverages sub-sector (up 0.8 points to 59.7 points, which posted its highest monthly result since April 2016.
On the flip side, non-metallic mineral products slipped by 10.2 points and into contraction at 41.7 points in November, after expanding strongly through much of 2017.
Numbers revealed that Input prices (up 10.2 points to 76.4 points) and wages (up 5.1 points to 64.1 points) both rose considerably in November, with manufacturers across several sub-sectors noting that soaring energy costs are damaging their profitability.
According to the report, the selling prices sub-index increased by 4.0 points to 52.2 in November, indicating that some manufacturers are passing these cost increases on to their customers.
Commenting on these readings, Ai Group Chief Executive, Innes Willox, said:
"The manufacturing sector lifted strongly in November, building on an uninterrupted growth phase that began in October 2016," he stated.
"Sales, production and employment all jumped ahead in November and the strong rise in new orders points to further good news as we head to Christmas. The resumption of growth in exports is particularly encouraging after a slight easing in momentum in recent months."
"The period of steady employment growth for the sector was reflected in a lift in the pace of wage growth to its highest rate in over five years. The sharp rise in input costs recorded in November is a sobering reminder of the risks posed for the manufacturing sector by climbing energy costs."