Toyota oversteps competitors by more than 80 per cent as Australia's best-selling vehicle, Corolla, tops the sales chart for six consecutive months.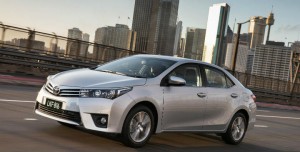 With more than 3200 deliveries in August, the Corolla claimed its spot as Australia's best-selling car by raising its 2014 total with 29,200 vehicles.
Throughout the year, Toyota's August result proves to show they have sold a surplus of 133,200 vehicles within 8 months.
Toyota Australia has declared more than 15,600 Toyota vehicles were sold this month in a Australia, with a lead of above 7000 sales compared to the next highest-selling brand.
According to the media release, in demand vehicles; Corolla, HiLux (remaining Australia's third best-selling vehicle), SUVs and Land Cruiser wagons and workhorses allowed Toyota to constitute a firm grip as the country's top-selling automotive brand for 12 consecutive years.
While Kluger and Prado both surpassed 1,200 product sales, Camry delivered four times higher than any other mid-size cars.
Tony Cramb, Toyota's Executive Director for Sales and Marketing, stated they are anticipating even higher new-vehicle sales on Spring.
"Demand remains at near-record levels across the industry and Toyota, in particular, is geared up for sales to accelerate during the last four months of the year," said Mr Cramb.
Toyota is the only brand to reach 75,000 sales this year, an overall lead of more than 58,000 vehicles over the No. 2 company.