The University of Wollongong's (UOW) Australian Institute for Innovative Materials has launched a month-long course in 3D body part printing titled  "Bioprinting: 3D Printing Body Parts".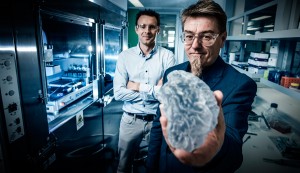 Led by Professor Gordon Wallace, the course will offer a glimpse in the realm of biomedical science and will illustrate how 3D printing has impacted the customised medical devices industry.
"We started this journey only a few short years ago by taking off-the-shelf office printers and having our engineers rebuild them to be able to print a bio-ink, embedded with human cells, that we had just developed," Professor Wallace said.
"In the short time since, revolutionary scientific advances in 3D-printing technology and the development of amazing biomaterials, which can seamlessly integrate into the body, means we may be only a few years away from a time when every major hospital will contain 3D printing capabilities."
The course is conducted through the University's partnership with global online learning platform FutureLearn.
"This emerging field of biofabrication is being made possible through connections between medicine and technology and we are now seeing previously unimaginable developments, such as prosthetic limbs controlled by thought alone, and bionic implants to restore lost senses, and of course – 3D printing of human organs," Professor Wallace said.
"The opportunity to share with a global learning community the impact our research has on everyday lives was an exciting extension of who we are at UOW," added UOW Deputy Vice-Chancellor Academic, Professor Eeva Leinonen.
The course is intended for students who want to study at UOW, primarily in the disciplines of degrees in science, mechatronics and materials engineering, and those who want to complete the new Masters degree in Biofabrication.
For more detailed information or to register, please go to futurelearn.com/courses/bioprinting