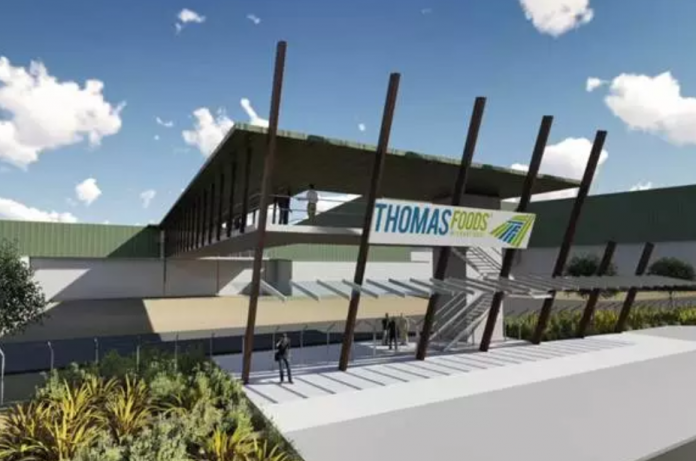 Construction has commenced on Thomas Foods International's new cutting-edge meat processing plant near Murray Bridge in South Australia, which is expected to create around 2,000 jobs once fully operational.
The plant will include beef, sheep and lamb processing facilities with a total processing capacity of 1,200 head of beef and up to 15,000 head of sheep and lamb per day. With an estimated value of several hundred million dollars, it will replace the plant destroyed by fire in early January 2019.
Turning the first sod at the site, Premier Steven Marshall said the new meat processing plant would bolster the state's regional economy, exports and jobs.
"It is fantastic to be here today to mark the start of construction of Thomas Foods International's new state-of-the-art meat processing – a factory which will create 2000 jobs," Premier Marshall said.
"In addition to the massive influx of jobs for the State – the estimated gross production impact of developing an expanded new plant on a Greenfield site will increase gross state product by an estimated $1.05 billion over the first 10 years of its operation.
"The new plant will ultimately grow our meat exports into the future, which is a crucial pillar of South Australia's food, wine and agribusiness sector."
The plant and its capacity will be built in a staged approach with the beef processing facilities to be completed first.
Thomas Foods International CEO Darren Thomas said the new plant would set the industry benchmark for technology, efficiency, environmental sustainability, animal welfare and workplace safety.
"Today marks an exciting milestone for the company, and we look forward to working alongside BADGE, our recently appointed Adelaide-based construction company, in creating what will become a global showcase of advanced food manufacturing," Mr Thomas continued.
"We made a commitment to rebuild and we're doing just that."
Image credit: https://thomasfoods.com/