Toshiba Corporation, a world leader and innovator in pioneering high technology, and GE have announced that Toshiba has been awarded a contract from Hokkaido Electric Power Co., Inc. (HEPCO) to provide a high efficiency combined-cycle thermal power generation system  for the Ishikariwan Shinko Power Plant Unit 1, HEPCO's first liquefied natural gas (LNG) fuelled thermal power plant.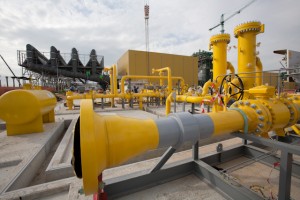 According to the press release by GE, the combined-cycle thermal power generation system will combine GE's latest high-efficiency 9HA Gas Turbine and Toshiba's most advanced steam turbine to achieve  thermal efficiency of 62% — the world's highest efficiency rate at the lower heating value.
Construction works at the plant — which is expected to have an output capacity of 569.4MW — are scheduled to commence in October 2015.
"Toshiba and GE's LNG-fuelled combined-cycle thermal power generation system contributes to achieving the balanced power supply mix essential for securing long-term stable power supply. I am sure it will be adopted by many utilities," Mr Yoshihiro Aburatani, Vice President of the Thermal & Hydro Power Systems & Services Division in Toshiba's Power Systems Company, said on the contract.
"As the centrepiece of Toshiba's power generation system, GE's 9HA Gas Turbine provides the highest combined-cycle efficiency, power plant availability and unprecedented operational flexibility while also being more economical in construction, operations and maintainability over the product life cycle," Mr Victor R. Abate, Vice President, Power Generation Products at GE Power & Water, said.
In October 2013, Toshiba and GE signed a strategic alliance agreement to reinforce marketing capabilities globally, based on a January 2013 memorandum of understanding. Under the agreement, Toshiba and GE will jointly work on product planning and promotion, strengthening product reliability and quality and developing next-generation combined-cycle systems offering even higher levels of thermal efficiency.
The order from HEPSO represents the first contract offer that GE and Toshiba received since the establishment of the strategic alliance in early 2013 and will serve to further strengthen their cooperation in developing and promoting highly efficient and environmentally friendly low-NOx and CO2 emission combined-cycle thermal power generation systems.