Tourism Australia yesterday unveiled "There's nothing like Australia" at Sydney's Quay Restaurant, in an effort to woo tourists with exceptional Australian wine and food.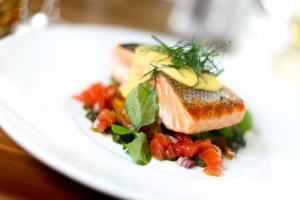 According to the news release by Tourism Australia, the new $10 million "Restaurant Australia" campaign is based on the idea of Australia being the greatest restaurant in the world and is set to be rolled out in three stages, culminating with the "Ignite the World" gala dinner in Tasmania in November.
"'Restaurant Australia' is all about bringing together the incredible stories of our people, place and produce to demonstrate to the world that every day, unique and exceptional food and wine experiences are being served-up in remarkable locations, and then sharing these stories through the creation of rich and compelling content," said Tourism Australia Managing Director John O'Sullivan.
"When we originally launched 'There's nothing like Australia', we did it by asking Australians to talk about their 'nothing like' experiences. This time our rally cry is to industry, with Tourism Australia providing the platforms to help show the world Restaurant Australia."
The new campaign website asks Australian food and wine businesses to submit their stories and to use the #restaurantaustralia on social media to capitalise on the online platforms of Tourism Australia.
With celebrity chefs like Peter Gilmore, Kylie Kwong and Maggie Beer, the campaign is using the "big guns" to turn the eyes of the world at the richness of flavours in the "world down under", reports the Daily Telegraph.
"The 'Restaurant Australia' familiarisation will bring together up to 80 media and key influencers, who will travel to different parts of the country to cover the food and wine experiences on offer in every state and territory during a week-long visit and capture their experiences through their media and online networks internationally," Mr O'Sullivan said.
"Their visit will conclude with all participants coming together for a special 'Invite the World to Dinner' gala event, which will see produce from around Australia prepared and served on-site at MONA in Tasmania on 14 November. The word-of-mouth advocacy this familiarisation will generate internationally is aimed squarely at closing the gap on perceptions of Australia's food and wine offering internationally and motivating people to travel here to indulge in our local cuisine. We want to win over their hearts, minds and their stomachs so that the dream of visiting Australia becomes reality."
Visitors from all over the world spent over $4 billion enjoying Australia's food, wine and culinary experiences in 2013, and this latest campaign has been developed on the basis of the research that Tourism Australia conducted last year in 15 key tourism markets of Australia, which identified a significant gap in the perceptions of Australia's food and wine offering.
For more information, to go www.australia.com/restaurantaustralia or www.tourism.australia.com