Tourism Australia's latest marketing campaign aims to push Australia as a prime destination for food and wine, hoping to shift the foreign market's perception that the country is just home to meat-pie eaters and beer drinkers.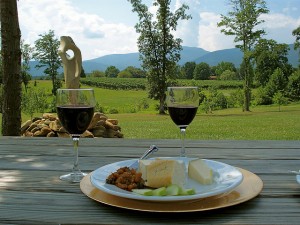 In a media release, Tourism Australia says research shows that only 26 percent of people who have never been to Australia associate the destination with good food and good wine. Meanwhile, for those who have had a chance to take a trip 'down under', Australia is ranked second for its food and wine experiences (60%), trailing behind France and coming in ahead of Italy. Australia is also ranked number one for high-end culinary offerings from people who have visited from China, USA, UK and France, among others.
Tourism Australia Managing Director Andrew McEvoy said it is clear that the perception gap between those who have been to the country and those who have not must be narrowed.
"This is a great marketing and communications challenge," McEvoy said in the media release. "To do this we are evolving our global campaign with the idea that Australia could be the world's greatest restaurant – Restaurant Australia – serving up the most unique food and wine experiences in remarkable locations every day."
Tourism Australia has tapped the tourism industry, leading food and wine identities, and its marketing partner Wine Australia to incorporate the food and wine experience much more strongly in their global campaigns. The Restaurant Australia campaign will now be part of Tourism Australia's global campaign 'There's nothing like Australia', and will be launched officially next year.
Wine Australia's General Manager for Market Development James Gosper said the strategy would create a certain kind of lifestyle for Australian wine and bring forth a compelling reason to visit the country.
"Tourism Australia's food and wine strategy will help forge a strong identity in the marketplace about Australia's incredibly diverse, unique and top quality wine and food experiences," Mr. Gosper said.
"This new food and wine focus will help the wine industry extend its consumer reach on a scale we've not been able to achieve before."
The potential economic gain of the new campaign also sounds very promising.
According to related news from ABC, Nick Baker of Tourism Australia hopes the campaign can provide the nation's economy with a vital boost.
"Potentially billions of dollars over the long run and for us trying to get to our 2020 goal of somewhere between $115 billion to $140 billion in tourism receipts that we will hopefully be getting by 2020," he said.
Tourism Australia's new marketing campaign follows another strong marketing push released by the Winemakers Federation of Australia (WFA) in August. With the aim of repositioning Australian wine for growth and sustainable profit, the WFA released the 'WFA Actions', which is a plan consisting of 33 actions grouped under 7 initiatives all aimed at delivering positive outcomes for the wine industry.
The plan proposes for a food and wine centre to be built in Shanghai, with China being the fastest-growing wine market in the world. The plan also includes other marketing initiatives such as investment for stronger presence in trade shows, partnerships with Tourism Australia and a social media-based platform to promote Australian wine.