Former Shadow Minister for Energy and Resources Ian Macfarlane has been selected by incoming Prime Minister Tony Abbott as the Minister for Industry in the new Government.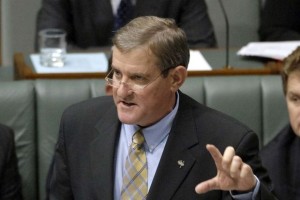 PM-elect Abbott unveiled his cabinet on Monday, with MacFarlane taking over the responsibilities of energy and resources, as well as science and innovation in the industry portfolio.
"This is a comprehensive portfolio that covers some of the most important drivers of economic activity for Australia and for the Darling Downs region," Macfarlane said in a report from The Chronicle.
"I am proud and honoured that incoming Prime Minister Tony Abbott has asked me to fulfill this role in the Coalition Government."
"There are some significant challenges within this portfolio that I want to get straight to work to address."
Restoring investor confidence in the resource sector is at the top of Macfarlane's list. The new Industry Minister said the resource sector has been the victim of poor policy and tax grabs in the past six years under Labor.
"Industry, energy and resources and tourism are major employers in towns and regions across Australia," he said. "As the Minister for Industry, I want to ensure that these sectors stay strong so Australians can continue to earn our fair share of revenue from our resources and to build a strong future for the many tens of thousands of jobs within these parts of our economy."
Mr. Abbott, who is expected to be formally sworn into office on Wednesday, referred to his cabinet as a highly experienced line up.
"It is, I believe, one of the most experienced incoming ministries in our history, and I think it's important to have experience as you move from opposition to government," Mr. Abbott said, quoted in a BBC report.
However Abbott is facing criticism for the lack of women appointed to his cabinet. Julie Bishop is the only woman to be named in Abbott's frontbench, assuming the role of foreign minister as expected.
"I'm obviously disappointed there aren't more women in Cabinet," he said in a report on News.com.au.
"Nevertheless there are some very good and talented women knocking on the door of the cabinet and there are lots of good and talented women knocking on the door of the ministry."
Below is the list of Abbott's (from The Chronicle):
Prime Minister – Tony Abbott
Deputy Prime Minister, Minister for Infrastructure and Regional Development – Warren Truss
Minister for Foreign Affairs – Julie Bishop
Minister for Employment, Minister Assisting the Prime Minister on the Public Service – Senator Eric Abetz
Attorney-General, Minister for the Arts – Senator George Brandis
Treasurer – Joe Hockey
Minister for Agriculture – Barnaby Joyce
Minister for Education – Christopher Pyne
Minister for Indigenous Affairs – Senator Nigel Scullion
Minister for Industry – Ian Macfarlane
Minister for Social Services – Kevin Andrews
Minister for Communications – Malcolm Turnbull
Minister for Health, Minister for Sport – Peter Dutton
Minister for Small Business – Bruce Billson
Minister for Trade and Investment – Andrew Robb
Minister for Defence – Senator David Johnston
Minister for the Environment  – Greg Hunt
Minister for Immigration and Border Protection – Scott Morrison
Minister for Finance – Senator Mathias Cormann