Toyota Motor Corp. has always been considered the frontrunner in implementing innovative technical solutions across its manufacturing operations. Known for its manufacturing prowess in the auto industry and beyond, the company has decided to implement another twist in its manufacturing practices, albeit rather unexpected one.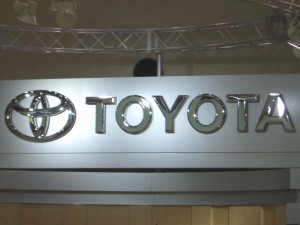 According to the article on Bloomberg, Toyota has decided to revert the tide that saw machines take over from humans in new age manufacturing and restore the presence of kami-sama (deity in Japanese) in plants across Japan so workers can develop new skills and figure out ways to improve production lines and the car-building process.
"We need to become more solid and get back to basics to sharpen our manual skills and further develop them. When I was a novice, experienced masters used to be called gods, and they could make anything," said Kawai, a half century-long company veteran appointed by President Akio Toyoda to promote craftsmanship at Toyota's plants.
"Toyota views their people who work in a plant like this as craftsmen who need to continue to refine their art and skill level," said Jeff Liker, who has written eight books on Toyota and visited Kawai last year.
"In almost every company you would visit, the workers' jobs are to feed parts into a machine and call somebody for help when it breaks down."
Mr Kawai said youngsters would greatly benefit from this learning curve and gain knowledge they otherwise wouldn't get from picking parts from bins and conveyor belts, or pressing buttons on machines. To that end, he has introduced multiple lines dedicated to manual labour in each of Toyota's factories in its home country.
"We cannot simply depend on the machines that only repeat the same task over and over again," Kawai said.
"To be the master of the machine, you have to have the knowledge and the skills to teach the machine."
In 2009, Toyota recalled more than 10 million vehicles to fix problems linked to unintended acceleration, damaging its reputation for quality. The company's leadership fears possible recurrence of such an episode and is determined to improve the quality of its workforce to be able to keep tabs on the machines.
"If there is ever a technology that's flawless and could always make perfect products, then we will be ready and willing to install that machine," Kawai said.
"There's no machine that is eternally stable."