Toyota Material Handling Australia has launched the 'SpotMe' safety system, designed to improve forklift safety in warehouses.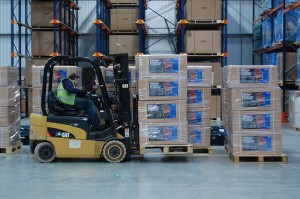 According to the media release from TMHA the system will help guard against collisions at blind intersections within a warehouse through its infra-red (IR) direction-sensitive sensors that can detect movement of forklifts and pedestrians at crossroads.
"Warehouses are crowded, fast-moving environments requiring extra attention from forklift operators and pedestrians to maintain high warehouse safety levels," said Dean Watson, TMHA national sales and product manager.
"In areas with restricted visibility, Toyota's SpotMe alerts forklift operators and pedestrians to the potential dangers of collisions, protecting the workers, the forklifts and the goods."
The SpotMe system features alternating flashing LED lights which, according to Mr. Watson, are far more efficient than other types of warning lights in preventing accidents.
"SpotMe also provides benefits in reduced wear and tear on the forklifts, reduced energy consumption and less chance of damage to goods," he said.
"With the SpotMe system installed there are fewer panic braking stops – and therefore improved operator behaviour.
"SpotMe also helps reduce the risk of dropping goods and keeps your forklift in better shape, while also saving energy," added Mr. Watson.
The SpotMe system is recommended to be installed at crossings, blind corners, doors and exits. It is available nationally at TMHA branches and can be installed by TMHA technicians or the customer's personal staff.
The warning unit can be connected to the standalone battery or plugged to an outlet and the sensor battery can last up to three years.
The Toyota SpotMe system will be unveiled in Australia at the Safety Show Sydney, to be held at the Sydney Showground on 3 to 5 September.