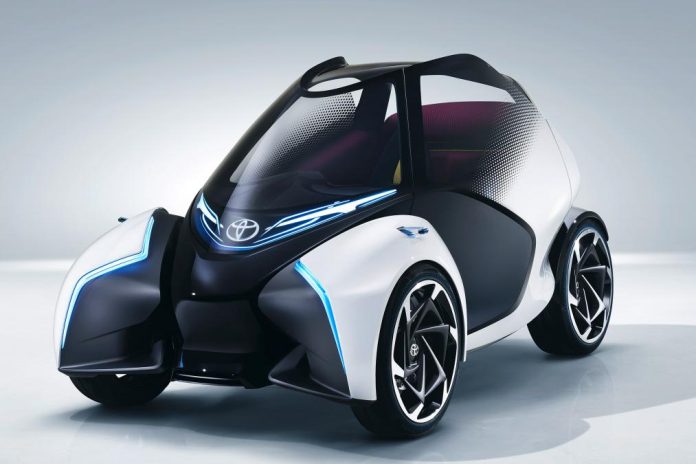 Toyota has unveiled a daring concept designed to show that future electric vehicles can be fun to drive as well as being environmentally friendly.
The i-TRIL Concept, making its world debut at the 2017 Geneva motor show, is a viable alternative to city cars, other electric vehicles, public transport and motorcycles.
Toyota's newest vision for the future is a small, agile vehicle designed for urban dwellers who travel extensively – often in stop-start traffic – to shop, visit restaurants, socialise and take children to school.
At just three metres long, 1,510mm high and featuring 1,200mm front and 600mm rear tracks, the compact i-TRIL offers spacious seating for three adults in a one-plus-two layout.
It is driven by electric-motor power and weighs a mere 600kg (about half the weight of a conventional small car) with Toyota aiming at a range of more than 200km between charges.
The i-TRIL Concept is capable of operating fully autonomously, but has been specifically conceived to provide such driving pleasure that owners will wish to drive themselves most of the time.
Representing all the best elements of future mobility beyond mere eco-friendliness, it was developed by Toyota Motor Europe in collaboration with the company's ED2 design studio in France.
The i-TRIL is the latest result of more than 40 years of research and development by Toyota into vehicles that use less energy, place less of a burden on the environment and are practical in meeting people's everyday transport needs.
It showcases numerous innovative aspects of Toyota's research including "active lean" technology that allows the vehicle body and front tyres to lean into a corner while the motorised rear tyres remain perpendicular to the road at all times.
Previous experience with this ingenious technology in vehicles such as the i-ROAD enabled Toyota's engineers to discover that a lean angle of 10 degrees is ideal for combining stability, grip and driving pleasure.
Allied to 25 degrees of front-wheel steering, it equips the i-TRIL with a turning circle of just four metres (similar to that of the Toyota iQ), making it not only highly engaging to drive at even modest speeds, but also very much at home in even the most congested urban environment.
Butterfly-opening doors are hinged on the sloping windscreen pillars for maximum ease of access, even for rear-seat passengers, while requiring no more opening room than conventional doors.
When the cabin doors are opened, they also remove a section of floor to narrow the vehicle's footprint and make stepping out simpler, with a shorter stride. The front seats can also be swivelled by up to 20 degrees for easier entry and exit.
Inside, a commanding yet relaxed and laid-back driving position – almost akin to that of a go-kart – ensures positive engagement of the steering module.
Steering, acceleration and braking are carried out by drive-by-wire control nodes, similar to electronic game controllers.
As there are no pedals, drivers can stretch out their legs in comfort and wear any type of footwear without risk of losing control of the vehicle.
There are no other controls or switchgear, and no driver's instrument binnacle. In manual driving mode, a simple head-up display projects all necessary information.
A completely new approach to the Human Machine Interface focuses on voice activation technology, communicating with the vehicle's artificial intelligence for the control of multimedia and infotainment systems.
During autonomous driving, the control nodes automatically retract into the driving module, which itself moves forward and is stowed within the dashboard to allow the driver maximum freedom of movement.
A further feature of the autonomous driving mode, the instrument panel extremities on the left or right automatically illuminate whenever the i-TRIL is about to enter a corner, letting all occupants know which way the cabin is about to lean.
The i-TRIL redefines interior space with a design philosophy that allows rear-seat passengers to become much more involved in the driving experience without interrupting the driver's space.
Better yet, it affords them far greater forward visibility and extensive legroom either side of the front driver's seat.
Another innovation is that the front seat headrest is fixed to the roof of the vehicle, and pivots down into position when the i-TRIL is switched on.
The interior has been designed to avoid an overtly automotive feel with Alcantara® front-seat trim, fabric rear-seat upholstery and a wooden floor finish – all made from recycled materials – providing a more comfortable, home-like space.
The tread pattern of the Goodyear 19-inch front and 20-inch rear tyres has been cut to match the ribbed design of the interior trim.
Media Release by TOYOTA