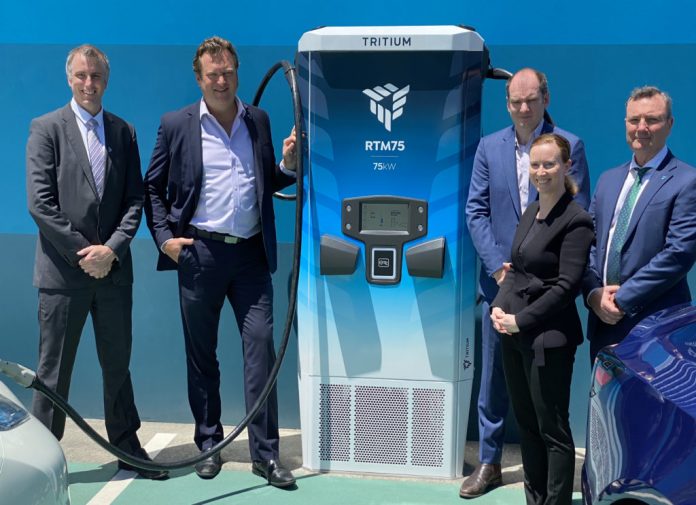 Australian manufacturer of electric vehicle (EV) charging technology Tritium has announced the launch of its MSC hardware platform, the first platform to enable truly scalable electric vehicle charging networks anywhere in the world.
Tritium said the MSC (Modular Scalable Charging) hardware platform provides customers with the flexibility to increase the power level of their charger as EV charging capabilities advance, and "pay as you grow". According to the company, charger power can be increased in 25kW increments, starting at 25kW and increasing to 350kW and beyond.
As part of the launch, Tritium also unveiled its next-gen RTM75 DC Fast Charger – the first charger built on the platform, allowing drivers to add 75 km of range to an electric vehicle in 10 minutes of charging.
The company's CEO Jane Hunter said the slim charger also allows for simultaneous charging of two vehicles at once and is built with urban, retail, fleet and public environments in mind.
"This has been something the industry and our customers have asked for over the years, and we are the first company in the world to deliver it," Ms Hunter continued.
"With our MSC platform, 50kW DC chargers can quickly be upgraded to 75kW, 100kW, and beyond, without a rip-and-replace required."
Dr David Finn, Chief Growth Officer and Founder, Tritium, noted that network operators were previously required to pre-order and install chargers from a set of prefabricated charging options; often set at 50kW (fast or rapid chargers), 175kW or 350kW (high power or ultra-fast chargers).
He said the MSC hardware platform allows for the quick installation of additional power electronics modules within each MSC-designed charger, such as the RTM75 and future iterations of Tritium chargers.
"The MSC hardware platform provides the next level of capital efficiency and scalability while still providing all the great attributes Tritium's products have become known for: design, slimness, and low maintenance," Mr Finn said.
"The electrification of transportation is at tipping point, so our customers want to know how they can easily extend their charging site capacity over the coming years. They want no regrets and capital efficient scaling of their charging sites. Tritium's MSC Hardware Platform allows our customers to scale their charging sites for half the price and configure their charging sites for a desired reliability.
"The MSC platform will allow Tritium to rapidly deploy new product and our aim is to provide at least one new product every quarter to address the needs of customers servicing the home/workplace, public, fleet depot, segments. The first product on the MSC Hardware Platform is the RTM75, with the PKM150 and PKM350 following in 2021."
Image credit: https://www.tritiumcharging.com/