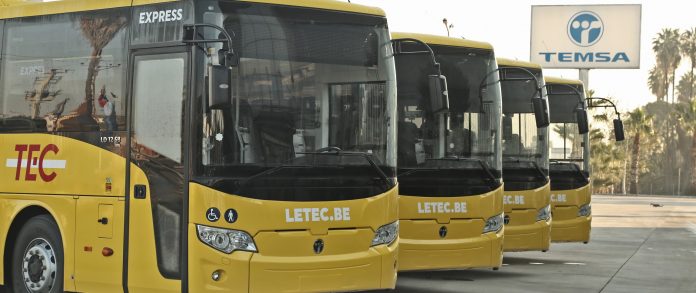 Turkish coach and bus manufacturer Temsa delivered its first shipment of LD 12 SB PLUS model buses to Belgium following its first electric bus export to Sweden.
Temsa, a joint company of Turkish Sabanci Holding and the Netherlands-based PPF Group, said it has delivered four units to Opérateur de transport de Wallonie (OTW) – the public transport company of the Wallonie region in Belgium – with the second party delivery consisting of 22 units to be delivered by April 2021.
According to the company's statement, the number of Temsa branded vehicles on Wallonie roads will reach 40 by the end of 2021, with ongoing orders coming.
The announcement follows Temsa's maiden shipment of its first electric bus, the MD9 electriCITY to Sweden.
"We recently exported the 6 MD9 electriCITY buses to Sweden. TEMSA's first electric vehicle export to Sweden was quite significant for us," said TEMSA CEO Tolga Do?anc?o?lu.
"Following a few weeks that passed since then, we are very content to set our second export route to Belgium, the center of the European Union (EU).
"Being a public company, OTW carries 159 million passengers annually with its public transport fleet of 1,543 vehicles. They conduct a large portion of their transportation services by means of buses. They carry out tram and metro transportation in the Charleroi region as well.
"It is a source of great pleasure to export the vehicles we manufacture in Adana to the country which is the center of the European Union."
Image credit: https://www.temsa.com/eu