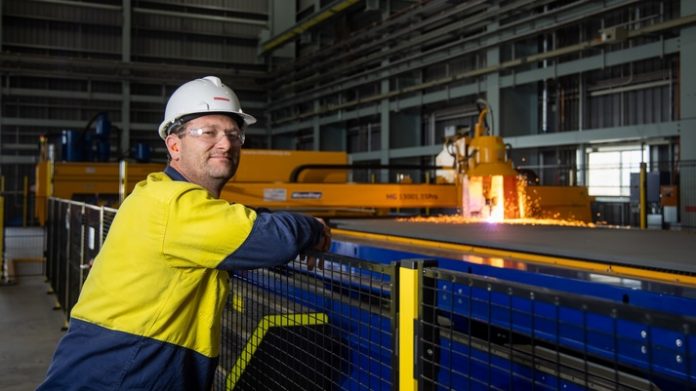 The Federal Government has announced the official start of the prototyping phase of the Hunter Class Frigate Program at the world-class Osborne shipyard in South Australia.
The prototyping phase will see the prime contractor for the program, BAE Systems Maritime Australia, build and assemble five representative ship blocks using Australian steel, with the company to also establish and test the systems, processes, facilities and workforce competencies before construction starts on the first Hunter class frigate in 2022.
BAE Systems Australia CEO Gabby Costigan, described the start of the prototyping phase as "an incredible achievement" for the company.
"To start prototyping just two years after the contract to deliver the Hunter program was signed in 2018, is an incredible achievement," Ms Costigan said.
"The pace of the program has been swift. We have moved into a modern, digitally advanced shipyard, progressed the design of the ship and significantly expanded our workforce.
"In the year ahead, we look forward to recruiting many more people to the program, putting the shipyard through its paces, engaging further with our supply chain and placing more contracts with Australian businesses."
BAE Systems Maritime Australia Managing Director, Craig Lockhart, added: "The next two years of prototyping will be incredibly important as we prove our systems and manufacturing processes ahead of construction starting at the end of 2022.
"Australian companies will play a significant role in the prototyping phase – the overwhelming majority of the content provided will be from Australian sourced materials and services.
"In parallel, we're also working with Australian industry and academia to explore and test local technologies that could contribute to the efficiency of the construction phase."
Minister for Defence Industry Melissa Price said the official start of the prototyping phase marked a major milestone for Australian shipbuilding but also for Australian industry and for Australian workers.
"We are not just cutting steel – we are cutting Australian steel, in a yard built by Australian workers, and one supported by Australian industry," the Minister continued.
"This truly world-leading digital shipyard will help our people and Australian industry do their job – raising the capability of Australia's shipbuilding industry.
"During the modernisation of this shipyard, 66 of 68 subcontracts were awarded to Australian companies.
"Australian companies have been engaged to provide the steel to construct the blocks, to prepare and paint the blocks for construction, to make the jig wagons that will transport steel around the yard, and to provide non-destructive testing services."
The prototyping phase of the Hunter Class Frigate Program will run until 2023, with the construction phase of the Hunter program scheduled to commence by end 2022.
Image credit: https://www.baesystems.com/