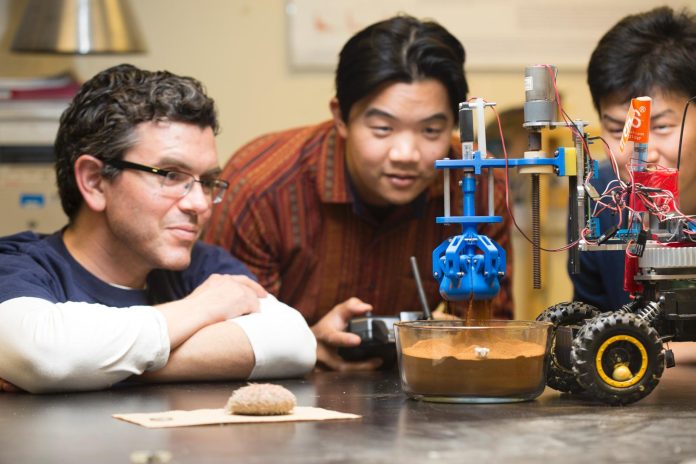 A team of engineers and marine biologists at the University of California, San Diego, has developed a claw-like device modelled on the sea urchin's intricate mouth and teeth that will be used to sample sediments on other plants, such as Mars.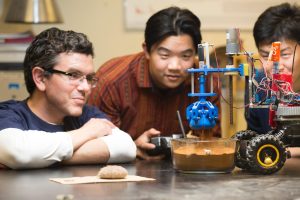 The urchin's mouthpiece is comprised of an intricate framework of muscles and five curved teeth with triangle shaped tips that can scrape, cut, chew and bore holes into the toughest rocks.
Michael Frank, a Ph.D. candidate at the Jacobs School of Engineering at UC San Diego and the paper's first author, said the urchin's extraordinary ability to rip through rock could translate to a good sediment sampler for space vehicles like the Mars rovers, which currently use shovels to collect ground samples.
"Our goal was a bioinspired device that's more precise and efficient at grabbing ground samples from different areas, and won't disturb the surrounding area like a shovel would," he said.
To construct the device, researchers first extracted the urchins' mouthpieces, scanned them with microCT, essentially a 3D microscopy technique, and analysed the structures at the National Centre for Microscopy and Imaging Research at the School of Medicine at UC San Diego.
Engineers then turned the microCT data into a user-friendly file that a team of undergraduate engineering students at UC San Diego used to start iterating prototypes of the claw-like device.
The students were able to quickly modify each prototype by using 3D printers in the UC San Diego Design Studio.
The device was then attached to a remote-controlled small rover and tested on beach sand, and sand that simulates Martian soil in density and humidity, and delivered very encouraging results.
The research group was led by mechanical engineering professor Joanna McKittrick, and also included Steven E. Naleway, Taylor S. Wirth, Jae-Young Jung, Charlene L. Cheung, Faviola B. Loera and Sandra Medina from the Jacobs School of Engineering at UC San Diego; and Kirk N. Sato and Jennifer R. A. Taylor at the Scripps Institution of Oceanography at UC San Diego.