Australian laws that impose uniform packaging and graphic health warnings on cigarettes are once again being disputed before the World Trade Organization, according to reports from Reuters.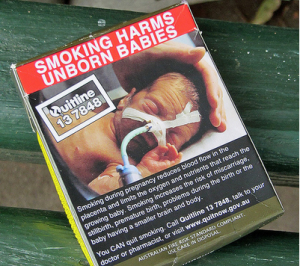 The legal dispute is widely seen as a "test case for tobacco control" around the world as health ministries go up against cigarette manufacturers such British American Tobacco, Philip Morris, Japan Tobacco and Imperial Tobacco.
Data from the World Health Organization (WHO) revealed that six million people succumb every year to diseases caused by smoking. That figure is projected to rise to eight million by 2030, prompting WHO to wage a war on "Big Tobacco". WHO believes Australia's campaign is the advent of a "brave new world of tobacco control".
Other countries are on track to follow Australia's footsteps but the WTO complainants say the rules are creating illegal obstacles in world trade. Australia's laws ban logos and infringe on their trademarks but so far the campaign has been successful in defeating its legal challenges.
An industry report from Australian Research Industry IBISWorld found that demand for cigarettes in Australia has declined over the past five years due to increasing health concerns, anti-smoking campaigns, increasing regulations and higher excise taxes
Aside from the plain packaging law introduced in December 2012, the various state bans on indoor smoking and the state retail display bans are also part of the regulatory restrictions that have an effect on the cigarette and tobacco manufacturing industry in Australia.
A recent study conducted on the effects of plain packaging found that the policy is associated with lower smoking appeal, more support for the plan and more urgency to quit among adult smokers.
Ukraine and Honduras have asked the WTO to adjudicate the dispute but the complaints fell into limbo after Ukraine asked the process to be suspended in November last year, while Honduras declined to proceed with the final step that would have pushed the adjudication through.
According to Reuters, diplomatic sources said Ukraine has revived the request in the past month, while Honduras asked for a WTO meeting on Sept 25 to set up a panel of adjudicators.
Meanwhile Dominican Republic and Cuba have also launched similar WTO disputes against Australia but the both countries' requests are in the early stages and neither has put forward a request for WTO adjudication at the September 25 meeting.