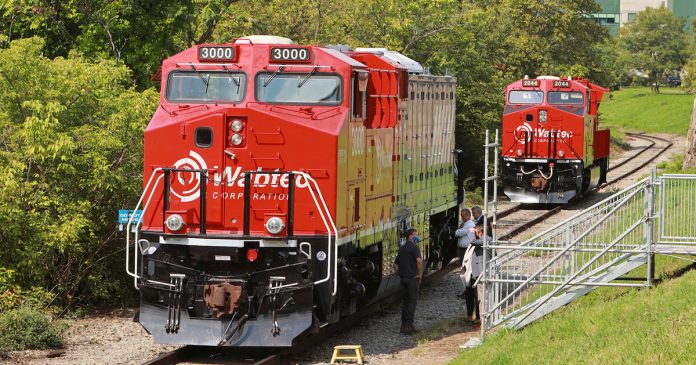 Union Pacific Railroad has announced that it has ordered 20 battery electric locomotives, 10 from Wabtec and another 10 from Progress Rail, a Caterpillar company.
The combined purchases and upgrades to yard infrastructure will exceed $100 million, which represents the largest investment in battery-electric technology by a US Class I railroad.
"We're committed to actions that reduce Union Pacific's environmental footprint as we work toward our ultimate goal of reaching net zero emissions by 2050," said Union Pacific Chairman, President and CEO, Lance Fritz.
"These investments will contribute to further developing this important technology and providing industry-wide benefits."
Both Progress Rail and Wabtec are world leaders in of locomotive innovation. The battery-electric locomotives will be manufactured in the US, with first units planned to arrive on site in late 2023. Complete delivery is expected by late 2024.
"We are pleased to supply our EMD Joule locomotives to Union Pacific representing our largest battery-electric locomotive order to-date," said Caterpillar Chairman and CEO Jim Umpleby in a media release.
"At Caterpillar, we're continuing to invest in new products, technologies and services to support our customers during the energy transition, helping them achieve their climate-related goals as they build a better, more sustainable world."
The locomotives will be tested at train yards in California and Nebraska, where they will be evaluated in both cold and warm conditions. This will allow the locomotives' capabilities and challenges to be identified ahead of a wider deployment.
Union Pacific wants to enhance battery-electric technology research and examine its future deployment in long-haul service by cooperating with locomotive manufacturers during this test phase.
"As an industry leader, Union Pacific is pioneering a major application of battery power in its rail yards," said Rafael Santana, President and CEO for Wabtec.
"Battery power is an ideal solution to reduce the environmental impact and costs of yard operations. Using the FLXdrive in the rail yard can significantly improve local air quality, as well as reduce noise by up to 70% for neighbouring communities."
Battery-electric locomotives operate without the use of fuel and produce no pollutants. Approximately 4,000 tons of carbon will be avoided annually for every ten battery-electric locomotives operated, the equivalent of eliminating 800 automobiles from the highway.
Image credit: https://www.wabteccorp.com/newsroom/press-releases/union-pacific-railroad-makes-largest-investment-in-wabtec-s-flxdrive-battery-electric-locomotive