The fear of further job losses in the manufacturing sector has prompted steelworkers to urge the Victorian Government to make sure that local steel is used in the construction of its signature road project – the East West Link – which is expected to transform Melbourne's road transportation network.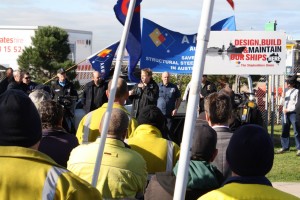 To that end, more than 150 workers staged a protest on Tuesday at the Port of Melbourne, where local steel manufacturers missed out on 25,000 tonnes of work earlier this year for the $1.6 billion expansion of Webb Dock.
According to the article on the Sydney Morning Herald, unions argue that as many as 800 jobs would be secured if the builders of the $8 billion first stage of the East West Link used local steel instead of cheaper imported steel.
To reassure workers, Roads Minister Terry Mulder said the short-listed bidders for the East West Link have been instructed to spend at least 80% of costs locally.
"The majority of the steel will be sourced from Australia. The guidelines clearly encourage content to be sourced from Australia," a spokeswoman for Mr Mulder said.
However, the Australian Manufacturing Workers Union (AMWU) said the Napthine Government's procurement guidelines with regards to the minimum local content requirements did not prevent contractors from using imported steel and called for a stronger commitment surrounding the East West Link.
"The majority of first-world countries do not import steel, full stop … so why are we any different in Victoria?" said Ben Davis, state secretary of the Australian Workers Union.
"Locking out local steel fabricators from major government projects results in Victorians being sacked," said state secretary Steve Dargavel. "We need real commitments and that comes down to political will."
The spokeswoman for Mr Mulder said the government's procurement guidelines showed it was investing in jobs and helping drive local industry development, while the state opposition was "saying no" to a $24 billion investment in Victorian infrastructure, including the East West Link.
"By doing so, Labor is saying no to a $24 billion investment in infrastructure, no to thousands of Victorian jobs and no to the huge flow-on effects for local suppliers and businesses," the spokeswoman said.