Universal Robots is taking part at this year's Dairy Show in Chicago (15–18 September, 2015) and is the first exhibitor ever to introduce collaborative robots.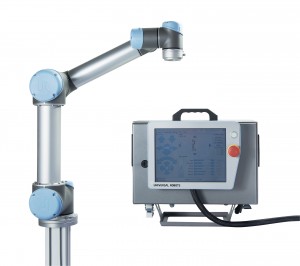 Universal Robots is the developer of collaborative robots that are portable, easy to use and able to work right next to employees without the need of safe guarding.
The company has had great success in introducing its robots into the automotive, electronics, metal and machining industries and so on. Now, Universal Robots aims to conquer the dairy market.
"I see agriculture and dairy as our next robot frontier. We're already firmly positioned within many manufacturing industries such as metal and machining, electronics, and automotive but the benefits offered by the UR robots – optimised production, increased competiveness, and the freeing up of labour for more challenging tasks – really applies to any industry. I'm excited to introduce the dairy sector to the ways our robots can make a difference in dairy production and packaging along the entire journey from farm to refrigerator," said Scott Mabie, General Manager of Universal Robots America Division.
"The out-of-box experience" with a collaborative UR robot is typically less than an hour. That's the time it takes an untrained operator to unpack the robot, mount it, and program the first simple tasks. Programming is intuitive and can be done by simply grabbing the robot arm to show it the desired movement or by using the arrow keys on the touch screen."
GNE Farm Equipment and Orkla Foods in Sweden already use UR robots to cut the cost of labour.
"A dairy man with no prior programming experience can operate a UR robot by using the simple point and click system. No other robot on the market is currently able to offer this ease of use system. Since no specialists are needed for operation, the UR robots results in a faster payback. With the available bank lease programs there is no money out of pocket for the dairy man," says owner of GNE Farm Equipment, Gerard Niessink.
"An important requirement was that the robot had to work flawlessly so that we would not need supervision or extra support for it to work. It would also be a major advantage if it did not require safety guarding around it and could work safely alongside our employees. We have got a more economic and stable operation and we are now looking into whether there are other applications where we can use this type of robot," said Johan Linné, Site Manager at Orkla Food.
The payback period for the UR10 robot installed at Orkla was only six months.
Cascina Italia also uses a UR5 robot in their production facilities and has greatly improved flexibility and operational efficiency.
"It was important for us to be able to install the robot in quite space-limited areas. To retain full flexibility we need to be able to react to the demands of the market, which starting from four sizes of eggs picked based on their weight, allows us to produce more than 220 commercial options in different formats, depending on the type of packaging required, " said Ruggero Moretti, Facility Manager of Cascina Italia.
"We are convinced that the collaborative robot solution is extremely useful for facilities like ours that have constraints on flexibility, available space and budgets for investment, which make traditional robotic solutions difficult to implement. The results obtained so far are excellent, so much so that we expect return on our initial investment in less than a year, with the additional advantage of having further refined and improved the quality of our packaging processes."