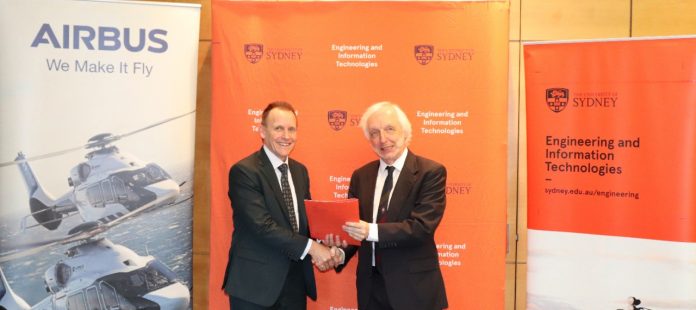 The University of Sydney's Faculty of Engineering and Information Technologies has become the only Aussie university to be part of the renowned Airbus Global University Partner Programme that provides students with the best possible insights into the available opportunities in the aviation and aerospace industries on a global scale.
The partnership agreement was signed last week in Sydney at a local signing ceremony by Professor Willy Zwaenepoel and Airbus Australia Pacific Vice-President Capability, Malcolm Benfer.
The formal signing of the agreement is scheduled for November and will take place at the Zhuhai Air Show in China.
"It's a two-way street. The University's mechanical, aeronautical and manufacturing engineering program is the highest-ranked in Australia. We're confident Airbus will benefit from having access to talented students who are learning about the latest research in areas ranging from aerospace structures to flight guidance, navigation and control," said Professor Zwaenepoel.
"It is great to see the University of Sydney included in this international collaboration effort from Airbus," added Mr Benfer.
According to the official announcement, the partnership is a wonderful opportunity for students to gain access to the Airbus campus team; take part in innovation programs at Airbus facilities around the world and be part of the global exchange program, among other things.
Image credit: https://sydney.edu.au/news-opinion/news/2018/08/02/university-of-sydney-teams-up-with-airbus.html