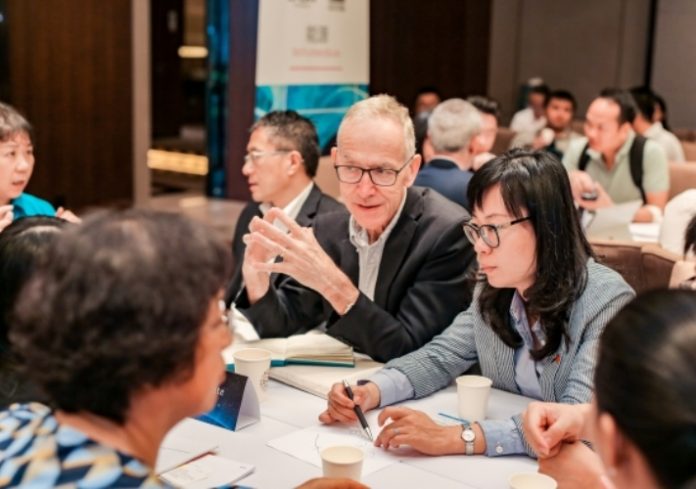 UNSW robotics and environmental protection researchers have secured two new industry partnerships during UNSW's Torch research roadshow in China.
The first cooperation agreement, which was signed between the UNSW Centre for Transformational Environmental Technologies (CTET) and China Coal Technology and Engineering Group (CCTEG), will support collaborative research and talent exchange in the field of water treatment.
The project will be spearheaded by Scientia Professor David Waite from the School of Civil and Environmental Engineering, who is also Executive Director of CTET, UNSW's first overseas research centre designed to drive research and commercial opportunities in environmental protection, especially water treatment, resource recovery and environmental management and sustainability for coal mines.
The second agreement will see robotics engineering company Shanghai Acrobotics – founded by UNSW alumnus Wayne Liu – establish a joint R&D centre focused on the development of robotic operating systems.
The project – which aims create user-friendly interfaces and human-robot interactions – will be led by Professor Claude Sammut from the School of Computer Science & Engineering,
Professor Ian Jacobs, President and Vice-Chancellor of UNSW Sydney, said the new partnerships will continue to drive innovation between UNSW and Australia's largest trading partner, China.
"Collaborating across sectors and across borders to expand our knowledge is increasingly important. Our world so desperately needs answers to grand global challenges in such critical areas as climate change, artificial intelligence and health," Professor Jacobs said.
"The UNSW Torch Innovation Precinct, the first of its kind endorsed outside of China, supports researchers and entrepreneurs to seek those answers. Torch is helping us better prepare for the future by advancing new research frontiers, and more effectively translating that research into real-world impact."
Image credit: https://newsroom.unsw.edu.au