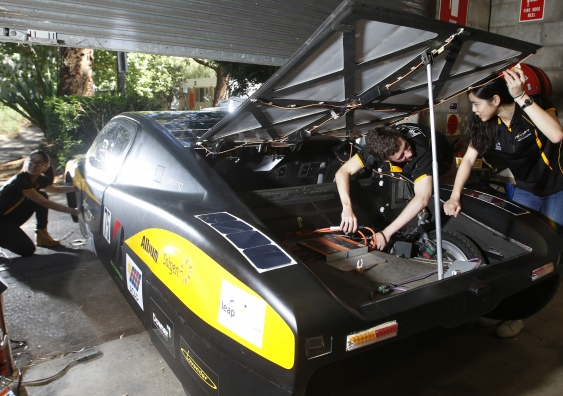 The world's fastest long range electric car, built by engineering students at the Solar Racing Team Sunswift at the University of NSW in Sydney, went on a regional outreach tour across NSW last week.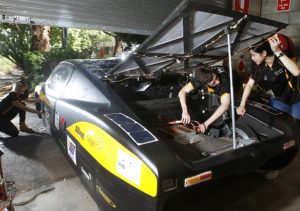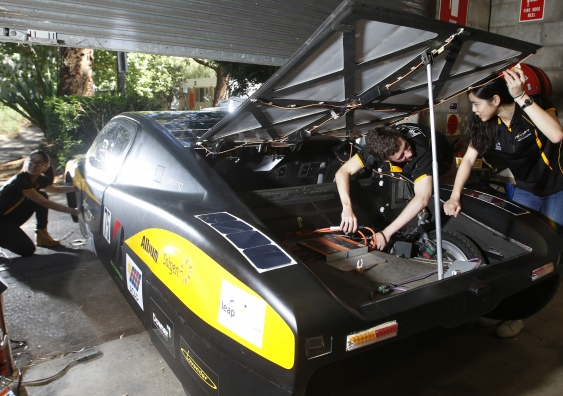 Dubbed "Sunswift eVe", the black two-seater sports coupé has twice represented Australia at the World Solar Challenge, taking out the world land-speed record for an electric vehicle by travelling at an average 100 km/h over a distance of 500 km on a single charge.
eVe has the capability of travelling up to 500km on a single charge of its batteries, or over 800km if powered by its solar cells as well.
Its batteries can be recharged in 10 hours on a household power socket, or in less than 7 hours using a commercial charging station. The cost of fuelling for every 100km amounts to around 80¢, compared to an average $15 for a conventional petrol car.
"There's nothing like working on a solar-powered race car to give you hands-on understanding of the mechanics and instrumentation of both cars and solar energy," said Simba Kuestler, a 4th year renewable energy engineering student at UNSW and Sunswift's project manager.
"Between lectures, study and sleep, we spend a lot of time in the workshop with her. It's very social as well as educational."
Connor O'Shea, a 1st year mechanical engineering student and the Sunswift's business manager, said the tour – which began with a weekend public showing at Town Beach Park in Port Macquarie on 27 November – ended with an all-day weekend display at Kings Parade Park in Bathurst on 3 December.
"Selfies with eVe are very popular. People love the car, and the whole idea that a cool-looking spots car can run entirely on solar power," O'Shea said.
"And we love nothing better than to show her off; we've very proud of eVe."