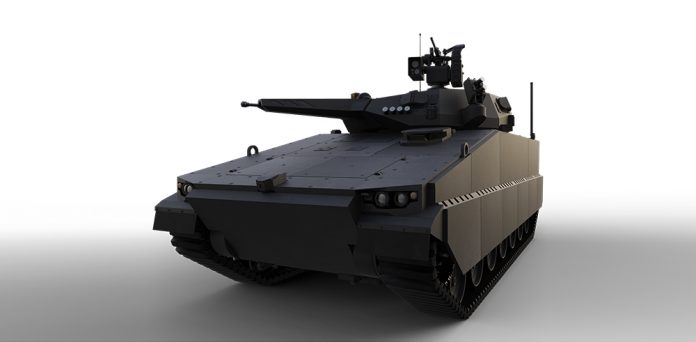 The Victorian Government is backing Hanwha Defense Australia's bid to build and maintain Australian military vehicles in Geelong as part of the Commonwealth's Land 400 Phase 3 project to replace the Army's ageing M113 armoured personnel carrier (APC) force.
The long-term partnership has been formalised with the signing of a Memorandum of Understanding (MoU) on Tuesday, which will support the establishment of Hanwha's defence manufacturing operations in Victoria.
Hanwha is one of two final tenderers, along with Rheinmetall in Queensland, that the Commonwealth selected for Land 400 Phase 3.
The MoU was inked by Minister for Industry Support and Recovery, Minister Pakula, who was at Laverton North to see Hanwha's LAND 400 Phase 3 vehicle.
Making the announcement, Mr Pakula said a PWC report commissioned by Hanwha estimated that the LAND 400 Phase 3 manufacturing effort would generate $5.7 billion in total economic impacts in Victoria.
He said the South Korean global company is also looking to build 30 Self-Propelled Howitzers and 15 armoured resupply vehicles in Geelong, having been recently announced as the sole tenderer for the Commonwealth's LAND 8116 tender.
"Victoria is the home of Australian manufacturing and we are pleased to be working with Hanwha to maximise opportunities for more high-value jobs to be created in Geelong," the Minister continued.
"The range of companies working in defence industries is staggering, and we're backing them to grow further."
Hanwha Defense Australia managing director Richard Cho said the partnership will strengthen Victoria's relationship with South Korean industry, driving collaboration and creating opportunities for expanded bilateral trade and investment.
"Hanwha is delighted to enter into this MoU with the Victorian Government," Mr Cho said.
"We see it as a strong platform from which to develop our mutual interests in a range of technologies and to establish an advanced manufacturing facility here in Victoria."
Image credit: https://www.hanwha-defense.co.kr/