A new government-supported research could help boost Victoria's export economy by capitalising on the growing trend toward therapeutic foods.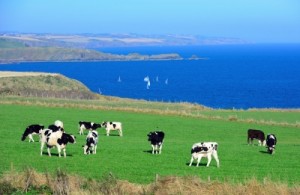 Elizabeth Ross, a bioscientist with the Department of Environment and Primary Industries and a PhD student at La Trobe University, has developed a new technique for measuring bacteria in the rumens of cows.
In a media release Minister for Agriculture and Food Security Peter Walsh said the research could transform the way the nutritional values of food are understood, leading to the discovery of high-value products that could be exported to the budding therapeutic foods market.
"This research is leading to a better understanding of the dietary requirements of both humans and animals and could revolutionise the way scientists assess the health benefits of different food products," Mr Walsh said.
"It could also lead to the development of new high-value food products from Victoria that could be marketed for their therapeutic value."
"Overseas markets including Asia are very interested in products such as formula and yoghurt which hold probiotic or prebiotic qualities that influence the digestive system and are beneficial to health."
Mr Walsh said there is great potential to boost Victoria's food exports through this research and tap into the emerging market trend.
"This research is yet another example of how the Victorian Coalition Government is helping to increase the productivity of the state's farmers and enhance global demand for their products, with a goal of doubling food and fibre exports by 2030."
DEPI Research Director and La Trobe University Professor Dr Ben Cocks the new research, which is part of the Dairy Futures Cooperative Research Centre, focused on revealing the hidden diversity of micro-organisms within the digestive system. This method provides a more accurate sample as it exposes the bacteria which often goes unnoticed when using traditional techniques.
"This method offers a powerful lens for viewing the microscopic world that will help expose the true relationship between the animal (or person), the bacteria and the nutritional value of food. It can then be used to identify particular foods that therapeutically battle diseases such as inflammatory bowel disorders," said Dr Cocks.
"For example, medical researchers and companies will be able to use this methodology to properly test milk quality and the complex sugars that steer the gut towards being healthy."
The research would also help identify the animals that produce less greenhouse gas, thereby reducing methane emissions from the cattle.
"Increasing the percentage of these low greenhouse gas producing animals in the national herd will result in an overall decrease in carbon footprint of a bottle of milk," said Dr Cocks.
The research has been conducted at DEPI facilities AgriBio in Bundoora and Ellinbank. Research has been supported by DEPI, the Dairy Futures Cooperative Research Centre, Dairy Australia and the Geoffrey Gardiner Foundation.