A professor who has been examining Australia's manufacturing sector for years has said that it is entirely within the country's power and resources to arrest the decline of the manufacturing industry.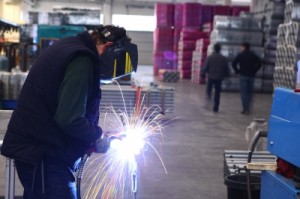 "It's entirely up to us. If we throw up our hands in despair, we could well be heading further in a downward direction, but it is entirely within our power and resources to arrest the decline," says Prof. Roy Green, Dean of the University of Technology Sydney, in an interview with ABC's Tony Eastley.
The interview conducted by Eastley is part of the week-long special reporting series focusing on the state of Australia's manufacturing sector.
"We have some extraordinary examples of success, but they cannot just be the exceptions to the rule," says Green, referring to Boeing and Kimberly Clarke which have been awarded global suppliers of the year, as well as companies that are supplying mining equipment all over the world.
Mr. Green said that the success of Australian manufacturing may not necessarily translate to a high rate of employment within the industry in the future.
"It may be that that the sign of success for manufacturing is that employment may not grow very much. One of the areas where we have great expertise in Australia is in robotics and automation, but it may not mean very many jobs in manufacturing."
"On the other hand, it may mean many new jobs in computer science, in engineering and other areas that are growing as a result of a high value, high growth manufacturing sector."
Professor Green says that while many manufacturing firms are struggling with the strong currency, there are a number of high quality, innovative companies that are actually benefiting from the economic condition. Firms that are producing for international markets are able to import capital equipment at lesser cost, and "drive their innovation and their connections into global supply chains and world markets."
These, says Professor Green, are the companies of the future. But not all companies will do as well, because manufacturers who are engaged in low and medium tech areas are challenged by low-cost competition, specifically from China.
"Those are areas where new technology may not make so much of a difference, but people might. A lot of the innovation that needs to happen is non-technology innovation. That is, new business models, systems integration and a high performance work and management practices," says Green.
Tony Eastley and the rest of the AM team will be travelling across three states this week to visit a variety of workplaces including niche manufacturers that are thriving even in markets abroad.
The team broadcasted from Adelaide yesterday, in the operations of a car parts manufacturer. They are reporting from Melbourne today from a leading cutting and grinder company, where they will be tackling the food industry until tomorrow. On Thursday, Eastley will visit an aerospace and defense firm that manufactures parts for the F35 Joint Strike Fighter and on Friday the AM team will be reporting from one of Australia's oldest, family owned businesses located in Gosford. They will also be discussing the future of small businesses in Australia.