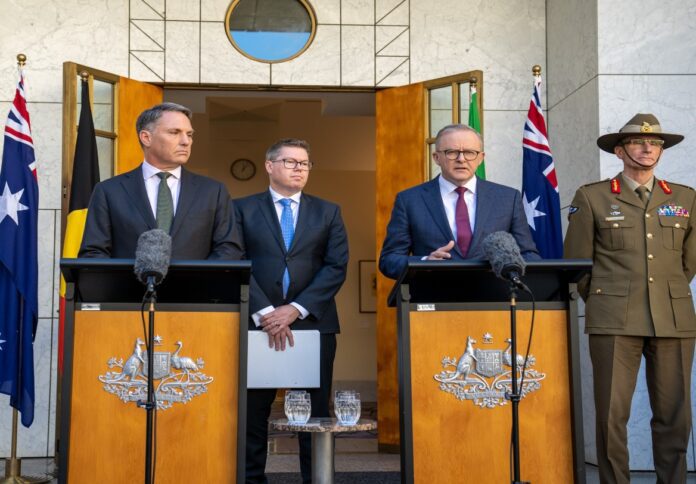 Developing the Australian Defence Force's (ADF) ability to precisely hit targets at extended ranges and boosting the manufacture of weapons in the country are among the country's six priority areas in the public version of the Defence Strategic Review released Monday.
The review, recommending the country's biggest defence shakeup since World War II, identified the acquisition of nuclear-powered submarines through AUKUS to improve Australia's deterrence capabilities.
The country's northern bases will become a focus to deter adversaries, and protect trade routes and communications, the review said.
The Albanese government also said it would adopt three other priorities recommended in the review for immediate action: Initiatives to improve the growth and retention of a highly skilled defence workforce, improving Australia's capacity to rapidly translate new technologies into defence, and a deepening of defence and diplomatic partnerships with "key partners" in the Indo-Pacific.
"My Government commissioned the Defence Strategic Review to assess whether Australia had the necessary defence capability, posture and preparedness to best defend Australia and its interests in the strategic environment we now face," said Prime Minister Anthony Albanese.
He continued, "We support the strategic direction and key findings set out in the Review, which will strengthen our national security and ensure our readiness for future challenges."
In an effort to create a more secure Australia and a more peaceful and prosperous region, Minister Albanese also said the country will continue to invest in its capabilities relationships.
Meanwhile, Deputy Prime Minister, Richard Marles stated the Defence Strategic Review, which is the government's response, "is about maintaining peace, security and prosperity in our region."
He added that work to implement the review will begin immediately, ensuring that the ADF and defence people have the capabilities required to keep Australians safe.
The Albanese Government's reaction to the review includes precise directives to the Defense with immediate effect along with the establishment of an organised and thorough mechanism for execution over the long term. 
In order to do this, the government has accepted the review's suggestion for a 2024 launch date for the first iteration of the National Defense Strategy, which will be updated every two years. 
According to the review's recommendations, the National Defence Strategy will include a detailed roadmap for defence policy, planning, capabilities, and funding, including a reordering of the Integrated Investment Program.
To put the work and recommendations of the review into action, the government said it will collaborate with businesses, the community, and stakeholders.